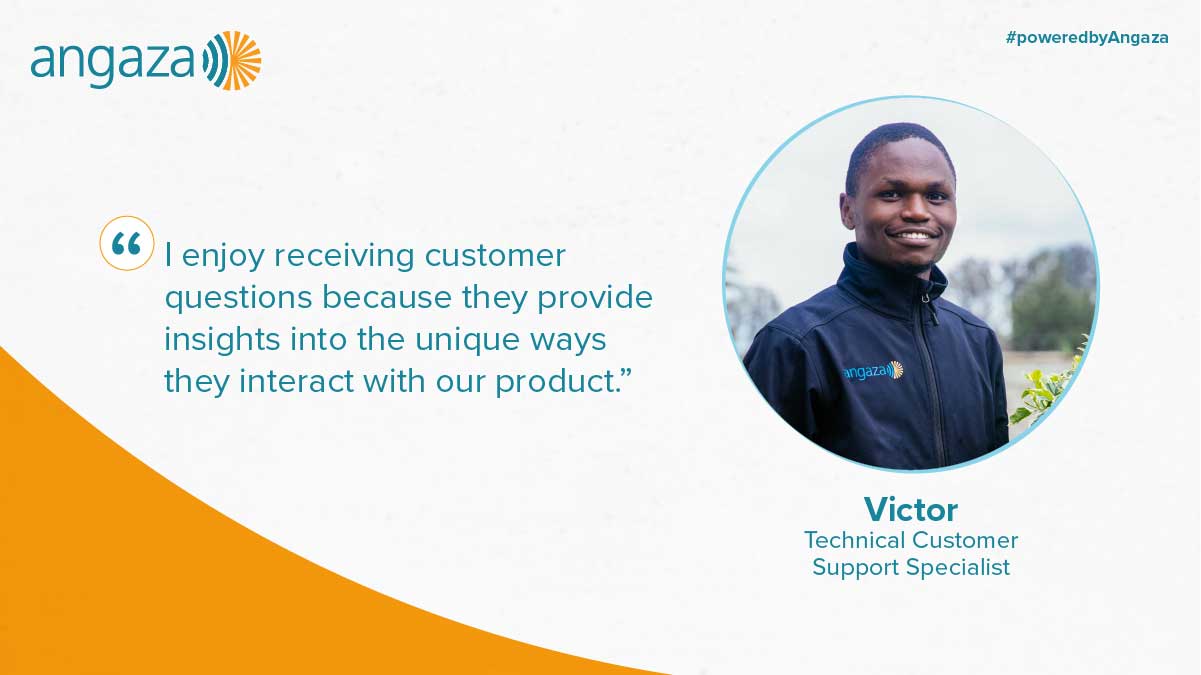 At Angaza, we're dedicated to making life-changing products affordable to the world's one billion consumers in emerging markets. Our customer support team ensures that our distribution customers receive exceptional and personalized resolutions, every time. In today's team spotlight, Victor, our Technical Customer Support Specialist, provides insight into his work, life in Nairobi, and what brings him greatest on-the-job satisfaction. Let's meet Victor.
Victor, Technical Customer Support Specialist, joined the Angaza team in November 2016. Based in Nairobi, he provides front-line technical support, technical training assistance, internal ticketing oversight, in-house technical testing for new country and product launches, and more. Victor graduated with a B.A.Sc in Aquatic Science from Egerton University in 2014, and worked in the communications and education sectors prior to joining Angaza.
Learn more about Victor in our Angaza Q&A:
Q: What is your favorite thing to do in Nairobi?
A: My favorite things to do in Nairobi are cycling the city's dedicated bike lanes and hiking in the Karura Forest.
Q: What is one accomplishment at work that you are most proud of?
A: One accomplishment at work that I'm most proud of is seeing our customer base grow to over 100 distribution partners over the past year, while continuing to receive exceptional feedback about the customer support experience. Secondly, maintaining 100% customer satisfaction for the past year.
Q: What aspect of your job do you enjoy the most?
A: The aspect of my job that I enjoy the most is receiving customer questions because they provide insights into the unique ways they interact with our product.
Q: You're happiest when?
A: I'm happiest when I resolve a customer support issue that required investigation.
Q: What three traits define you?
A: The three traits that define me are that I'm eager to learn, punctual, and people-conscious.
Discover more team members:
Michael Isika, Strategic Customer Success Manager
Rosina Norton, Data Scientist
Peter Thuo, Customer Success Manager
Jane Kimani, Director of East Africa Operations
Victor, Technical Customer Support Specialist
David Baraza, Technical Support Specialist
Anthony Akivembe, Sales Specialist