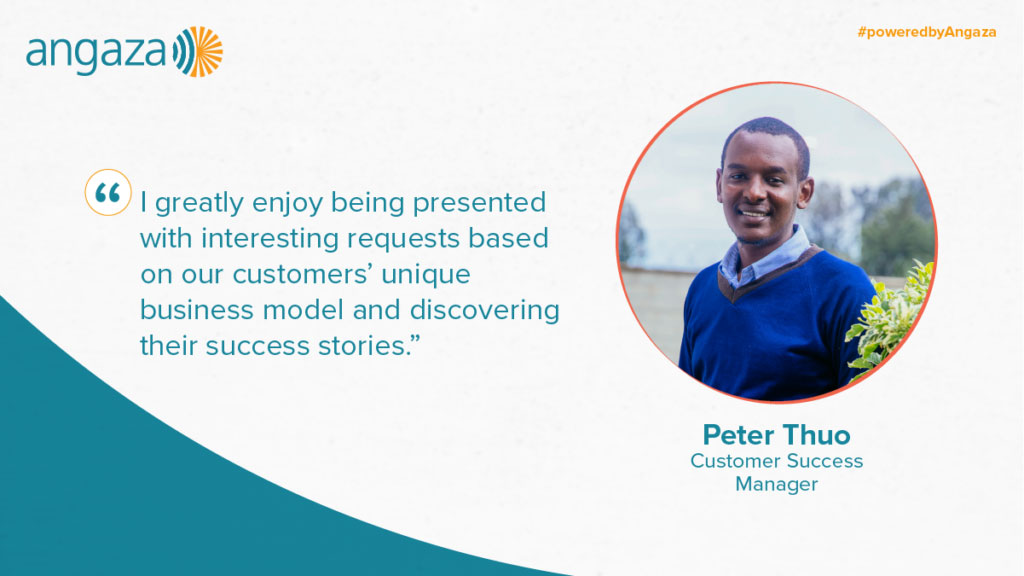 At Angaza, we're dedicated to making life-changing products affordable to the world's one billion consumers in emerging markets. The Angaza customer service team ensures that our last-mile distribution customers receive exceptional and personalized resolutions, every time. In today's team spotlight, Peter Thuo, our Customer Success Manager, describes a typical day on-the-job and some of his favorite places to visit and things to do in Nairobi.
Let's Meet Peter Thuo
Peter Thuo, Customer Success Manager, joined the Angaza customer service team in February 2017. Based in Nairobi, Peter manages relationships with last-mile distribution partners and ensures adoption and optimization of the Angaza Hub and Activator. If you're a last-mile distributor, he'll be sure that any challenges that arise are quickly and completely addressed, while working with you to fully harness the power of Angaza's technology. Peter holds a Bachelors of Commerce from The Catholic University of Eastern Africa and graduated with a Masters of Arts in Corporate Communication from Daystar University in 2016. Prior to Angaza he worked in the banking and real estate sectors.
Learn more about Peter in our Angaza Q&A:
Q: How would you describe your job in 25 words or less?
A: To describe my job in twenty-five words or less, I'd say it's: Interaction and relationship management with a vast portfolio of customers with unique needs.
Q: What three traits define you?
A: The three traits that define me are being open-minded, laid-back, and curious.
Q: What is your favorite thing to do in Nairobi?
A: My two favorite things to do in Nairobi are visit Nanyuki Town and Lamu Town. Nanyuki specifically because of its ranches and wildlife conservancies and Lamu because it has a unique cultural heritage maintained from pre-colonial times, and massive clean beaches. Shela Beach is my favorite. I am also a huge fan of the outdoors. I love nature, sightseeing, photography, and a long evening drive is magic to me.
Q: Can you describe a typical day?
A: A typical day entails a lot of email interaction with customers to resolve challenges they may be facing with the Angaza technology. I spend time going through Angaza customer service tickets, online calls with customers to check how they're fairing, understanding their next steps for scaling-up, and substantial internal collaboration to set our customers up for success.
Q: What aspect of your job do you enjoy the most?
A: The aspect of my job that I enjoy the most is being presented with interesting requests based on our customers' unique business model and discovering their success stories.
Q: What have you learned about customer support since joining Angaza?
A: I've learned the importance of setting expectations since joining Angaza. To keep our customers happy and to avoid frustrations, it is vital that expectations for timelines and technological capacity are communicated. This role has also developed my teamwork skills. I have the opportunity to work with a wide-variety of teams to ensure customers are happy and to instill confidence in Angaza's technology.
Discover more team members:
Michael Isika, Strategic Customer Success Manager
Rosina Norton, Data Scientist
Peter Thuo, Customer Success Manager
Jane Kimani, Director of East Africa Operations
Victor, Technical Customer Support Specialist
David Baraza, Technical Support Specialist
Anthony Akivembe, Sales Specialist
Discover how Angaza's Pay-As-You-Go technology and exceptional customer service can take your business further.