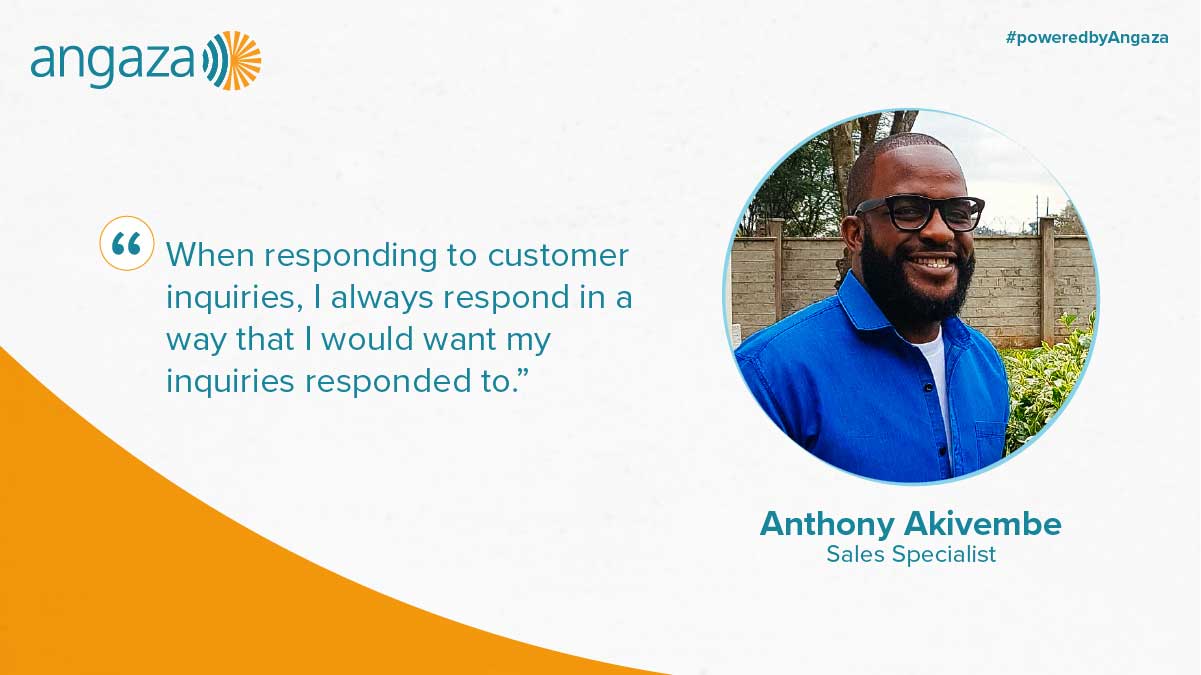 At Angaza, we're dedicated to making life-changing products affordable to the world's one billion consumers in emerging markets. Our customer support team ensures that our distribution customers receive exceptional and personalized resolutions, every time. In today's team spotlight, Anthony Akivembe, our Sales Specialist, describes his personal customer support philosophy and a typical day at the office. Let's meet Anthony.
Anthony Akivembe, Sales Specialist, joined the Angaza team in June 2018. Based in Nairobi, Anthony holds an Advanced Diploma in Electrical Engineering from the Railway Training Institute, a Certificate in Network Systems from the Institute of Advanced Technology, Advanced Diplomas in Digital Electronics and Computer Systems from KCA University, and is pursuing an undergraduate degree in International Business Administration from the United States International University. Prior to Angaza he worked in the telecom, renewable energy and communication sectors.
Learn more about Anthony in our Angaza Q&A:
Q: What is your personal customer support philosophy?
A: When responding to customer inquiries, I always respond in a way that I would want my inquiries responded to. I choose to personalize my responses, opposed to providing generic replies.
Q: Can you describe a typical day?
A: My typical day would be lined-up with meetings via Skype/Google hangout calls to talk about our solution, followed by an extended email session responding to and proactively reaching out to customers.
Q: What is the most important thing you have learned in the past 5 years?
A: The most important thing I've learned in the past 5 years is humility. The good Lord (I'm very spiritual in my approach to life) has been good to me over the years and at some point I subconsciously developed the "it's through my own effort" attitude about my achievements. This nurtured an unhealthy amount of selfish pride. I had to change! And I chose humility.
Q: You're happiest when?
A: I am happiest around my family, when I'm listening to my music collection comprised of mixed genres, or working out at the gym.
Q: What three traits define you?
A: I consider myself courteous, approachable, and meticulous. I care a lot about the workplace atmosphere. I work well with others and I always pay attention to details.
Discover more team members:
Michael Isika, Strategic Customer Success Manager
Rosina Norton, Data Scientist
Peter Thuo, Customer Success Manager
Jane Kimani, Director of East Africa Operations
Victor, Technical Customer Support Specialist
David Baraza, Technical Support Specialist
Anthony Akivembe, Sales Specialist