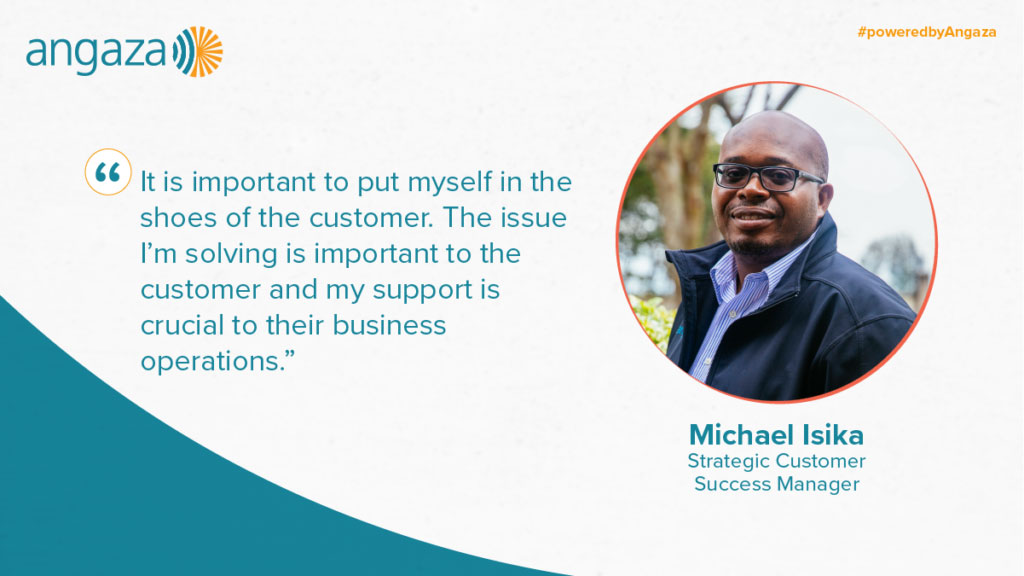 At Angaza, we're dedicated to making life-changing products affordable to the world's one billion consumers in emerging markets. The Angaza customer support team ensures that our Last-mile distribution customers receive exceptional and personalized resolutions, every time. In today's team spotlight, Michael Isika, our Strategic Customer Success Manager, discusses upcoming trends in pay-as-you-go, his personal customer support philosophy, and more.
Let's Meet Michael Isika
Michael Isika joined the Angaza customer support team in August 2017 as a Strategic Account Manager and has held the role of Strategic Customer Success Manager since March 2018. Based in Nairobi, Michael proactively leads joint partner planning processes to create mutual performance objectives, financial targets and critical milestones associated with productive partner relationships. Michael holds a Bachelor's Degree in Marketing from Maseno University and graduated with an MBA in Strategic Management from Kenya Methodist University in 2017. Prior to Angaza he work in advertising, telecom and renewables sectors.
Learn more about Michael in our Angaza Q&A:
Q: What three traits define you?
A: The three traits that define me are honesty, dependability, and caring. I'm honest in setting customer expectations, dependable in meeting the needs of customers, and caring. It is important to put myself in the shoes of the customer. The issue I'm solving is important to the customer and my support is crucial to their business operations.
Q: What would people never guess you do in your role?
A: People would never guess that in my role I proactively guide customers toward success. For example, if a customer has a high Portfolio-at-Risk (PAR) based on data, I will highlight the risk and propose interventions to redirect our customer back on the path to success.
Q: What is your personal customer support philosophy?
A: My personal customer support philosophy is that the customer is king! I practice this philosophy in my role by putting the customer's interest first in every interaction.
Q: What is the most important thing you have learned in the past 5 years?
A: The most important thing I have learned in the past five years is that a positive attitude provides the opportunity to learn and grow.
Q: What are some upcoming trends or challenges that you see in your field?
A: One of the major trends that I'm seeing in the field is that more manufacturers are embracing pay-as-you-go technology, which is great for distributors and end-users. The ensuing challenge is in the quality of these products. It will become increasingly challenging for distributors and end-users to determine which devices meet the required standards. The good news is that Lighting Global has recently created metrics and started testing pay-as-you-go devices.
Discover how Pay-As-You-Go technology and exceptional Angaza customer support can take your business further.
Discover more team members:
Michael Isika, Strategic Customer Success Manager
Rosina Norton, Data Scientist
Peter Thuo, Customer Success Manager
Jane Kimani, Director of East Africa Operations
Victor, Technical Customer Support Specialist
David Baraza, Technical Support Specialist
Anthony Akivembe, Sales Specialist