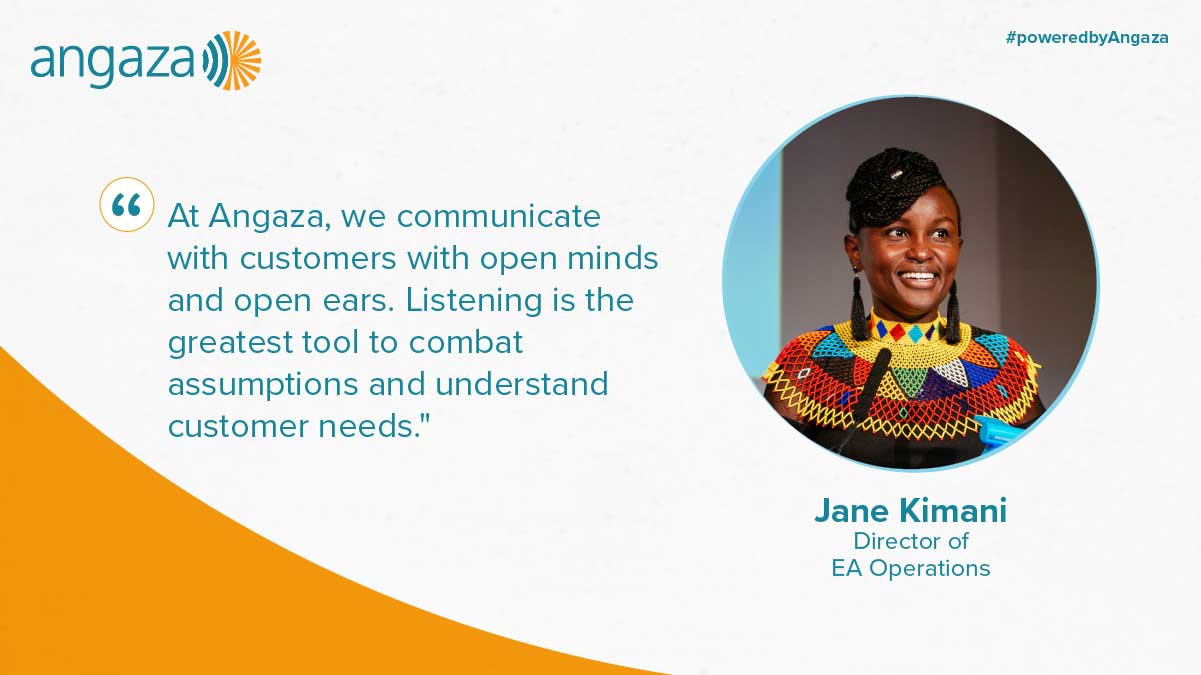 At Angaza, we're dedicated to making life-changing products affordable to the world's one billion consumers in emerging markets. The Angaza customer support team ensures that our last-mile customers receive exceptional and personalized resolutions, every time. In today's team spotlight, Jane Kimani, our Director of East Africa Operations, describes what it takes to train the team that provides Angaza's exceptional customer support, her customer support philosophy, and more.
Let's Meet Jane Kimani
Jane Kimani, Director of East Africa Operations, joined the Angaza team in January 2018. Based in Nairobi, she leads operations at the Nairobi office and coordinates the support of Angaza's global network of last-mile distribution partners, including the training and onboarding of business units, while evangelizing employee engagement. Jane holds a Bachelors of Arts in Communications from Daystar University, a Post Graduate Diploma in Human Resource Management, and graduated with an MBA in Strategic Management from the University of Manitoba in 2015.
Learn more about Jane in our Angaza Q&A:
Q: What have you learned about customer support since joining Angaza?
A: Since joining Angaza, I've learned that there is only one boss. And to me, that is our customer. Having satisfied customers is not enough, so I drive high expectations to ensure that our customers are blown away by our services.
Q: What aspect of your job do you enjoy the most?
A: I am obsessed with company culture, so working with our teams to find ways to keep everyone engaged and connected is the highlight of my job. I also love our customers and raising the support bar to ensure that they receive best-in-class service.
Q: What kinds of hobbies and interests do you have outside of work?
A: Outside of work I am an avid runner and reader. I try to clock 72 kilometers (45 miles) each week and read five books a month.
Q: What three traits define you?
A: The three traits that best define me are empathetic, humorous, and a closeted introvert. #NoOneWillBelieveTheIntrovertedPart
Q: What is your personal customer support philosophy?
A: "Assumptions are the termites of relationships." The human brain loves to categorize things — it's how we make sense of our world on a daily basis. This has a lot to do with why we are so quick to make assumptions. Our brains need to understand why people say what they say by filling in the blanks. The breakdown happens when our assumptions are flat wrong; it's dangerous to believe you know everything about your customer and vice versa. At Angaza, we communicate with customers with open minds and open ears. Listening is the greatest tool to combat assumptions and understand customer needs.
Q: What is one accomplishment at work that you are most proud of?
A: The one accomplishment at work that I'm most proud of is hitting 100% customer satisfaction within the first six months into my role. I intend to keep it that way. In fact, maybe I'll take it a few notches higher to 110%!
Discover more team members:
Michael Isika, Strategic Customer Success Manager
Rosina Norton, Data Scientist
Peter Thuo, Customer Success Manager
Jane Kimani, Director of East Africa Operations
Victor, Technical Customer Support Specialist
David Baraza, Technical Support Specialist
Anthony Akivembe, Sales Specialist
Discover how Angaza's Pay-As-You-Go technology and exceptional customer service can take your business further.