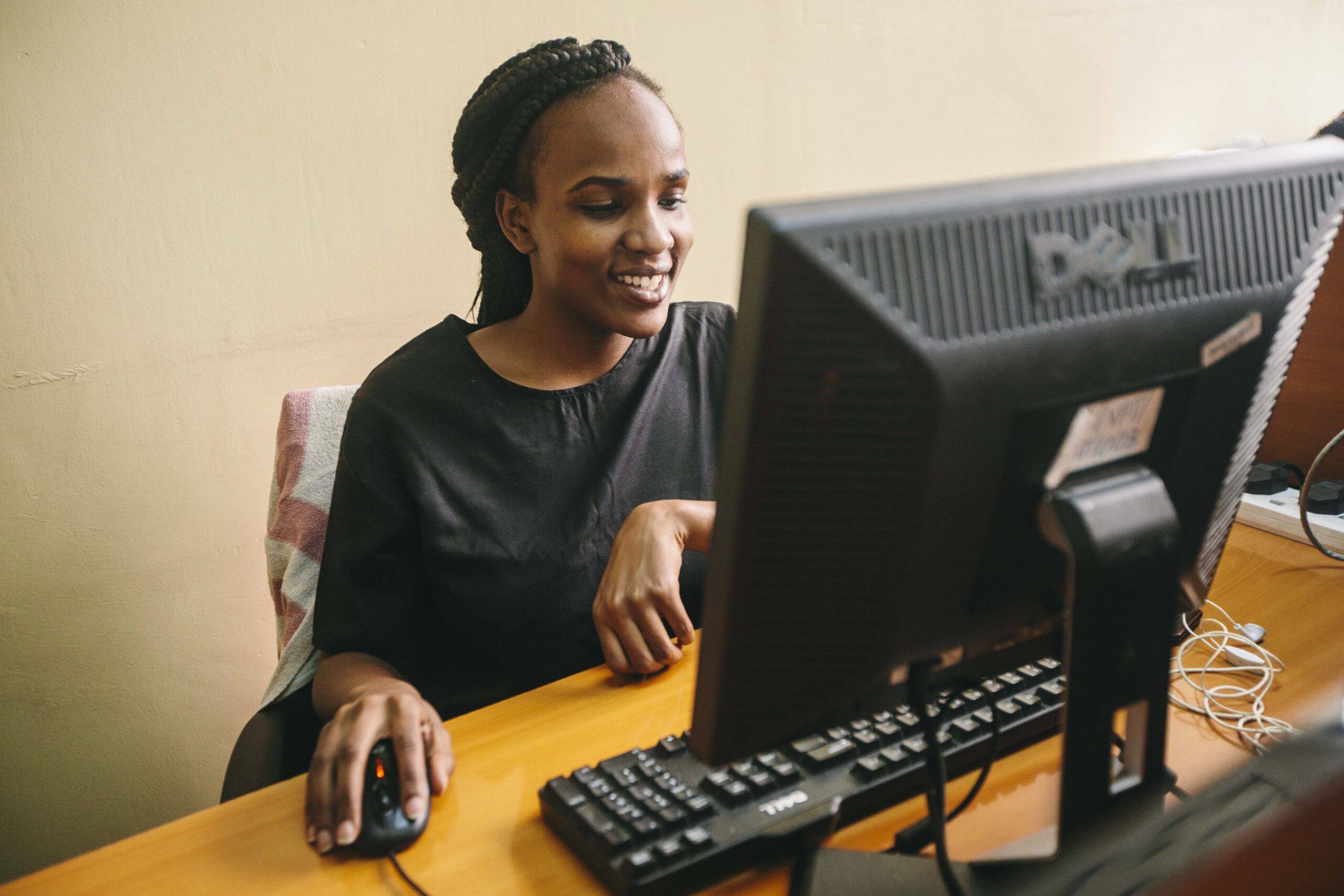 If you're a last-mile distributor serving low income and remote consumer markets, you know that digital tools to record sales, take payments, and manage client records are required for functional, efficient operations. But to really succeed in last-mile distribution, it's not enough to simply replace analog pen and paper records with digital copies.
Powerful, sustainable growth hinges on the ability to put your sales and operational data to work. That means transforming data into insights and connecting insights to action. The Angaza platform is designed to be that connective tissue that can make the difference between incremental sales and transformational growth. Some call this power digitalization, others call it digital transformation. In nearly a decade of working with our customers, we've learned a few things about how the most successful last-mile distributors harness digital tools.
Get insights where you need them
Data is relatively easy to record, but raw information alone has little value. Indeed, raw data is often expensive to store, transfer, and manipulate. The single most important data challenge companies face is ensuring that the right information is available to the right decision-makers at the right time. Well-managed data allows companies to be proactive rather than reactive.
That's where Angaza's data science features make the difference for distributors. Advanced analytics can detect patterns in vast datasets and make next steps clear. Our Repayment Risk model predicts how likely past-due accounts are to make a payment in the next 90 days, allowing distributors to focus on clients who are most likely to be responsive to intervention. We even help distributors make device data more valuable. Unit Health Alerts can detect an error with an IoT by Angaza device before the device malfunctions and the client complains.
One of the most important, and most visible, ways that Angaza transforms noisy data into meaningful information is our interactive dashboards. No matter what life-changing products you sell, dashboards can make your business more data-driven and insightful, as in this demonstration of a custom dashboard for non-metered direct sales:

Webinar: Accelerating Non-Metered Sales with Angaza
These customizable dashboards are the homepage of the Angaza Hub, and over time we have added more important metrics to help track core parts of your business. Currently, the Angaza Hub has three standard dashboards: Sales, Collections, and the recently introduced Stock Dashboard.
The Stock Dashboard tracks your stock throughout its lifecycle, including how inventory is moving in and out of your company. This historical analysis makes it easier to anticipate stock-outs and reorder ahead of time. According to the 2019 report of the Global Distributor's Collective, procurement is one of the three greatest challenges that last-mile distributors face. Better being able to see and predict your inventory levels lets you more accurately predict when you need to reorder.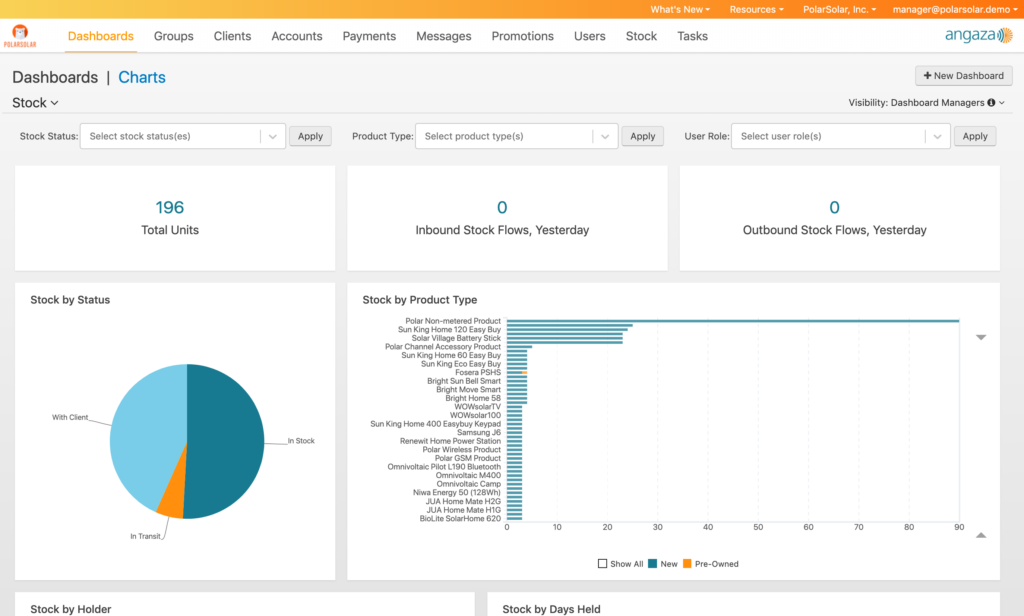 The interactive Stock Dashboard makes it simpler to track inventory levels and unit status 
The Stock Dashboard also helps distributors track stock condition and quality over time, including any replacements or refurbishments. For instance, the Unit Recycling Factor tracks how many times on average a new unit has been sold. Other metrics track how much time on average stock spends in various states so that you can maximize the time that devices spend with clients making them happy and generating revenue.
Organizations can also use the new Unit Condition feature to analyze stock by post-sales status. Unit Condition allows Hub and Activator users to define the physical condition of a unit at key points in time. After-sales teams can keep tabs on devices that need attention from the first time a client raises a concern, through to inspection, repairs, and finally to the re-sale of a refurbished product.
Use Tasks to coordinate action that matters
Seeing what needs to be done is only half the challenge; taking meaningful action is what really separates industry leaders from the wannabes. Angaza's platform is that connective tissue between insights and action.
Recently, we have made improvements to the way that the Tasks feature works on Angaza. In addition to an upgrade to the user interface of Task pages on the Hub, Tasks now include important information like priority, due dates, and details on how to accomplish them. And with the newest version of the Activator, Tasks are now available to your mobile workforce. Tasks enable your full workforce to be up-to-date about what needs to be done, by whom and when- and monitor progress in real time.
Crucially, smart task management is more than just a fancy to-do list sent from headquarters. Angaza's Tasks feature is a communication tool. Activator users can mark their progress, edit tasks when they know that strategies need to change, and comment on what's happening. Harnessing the knowledge of your distributed workforce makes your whole organization smarter and better able to provide clients with the services and products they need.
Tasks are ideal for accomplishing complex workflows that require coordination between workers with different skill sets. The increased size and complexity of affordable solar products like large solar home systems or biodigesters has made the installation more complex for many last-mile distributors. Transporting multiple larger systems and sometimes fragile components like televisions is not efficient for sales agents, and installation may require a visit from a technician with specialized training. With Tasks, product delivery and specialist appointments can be scheduled by headquarters when a prospect is approved. To save time for the specialist, the task can even include details about the installation site.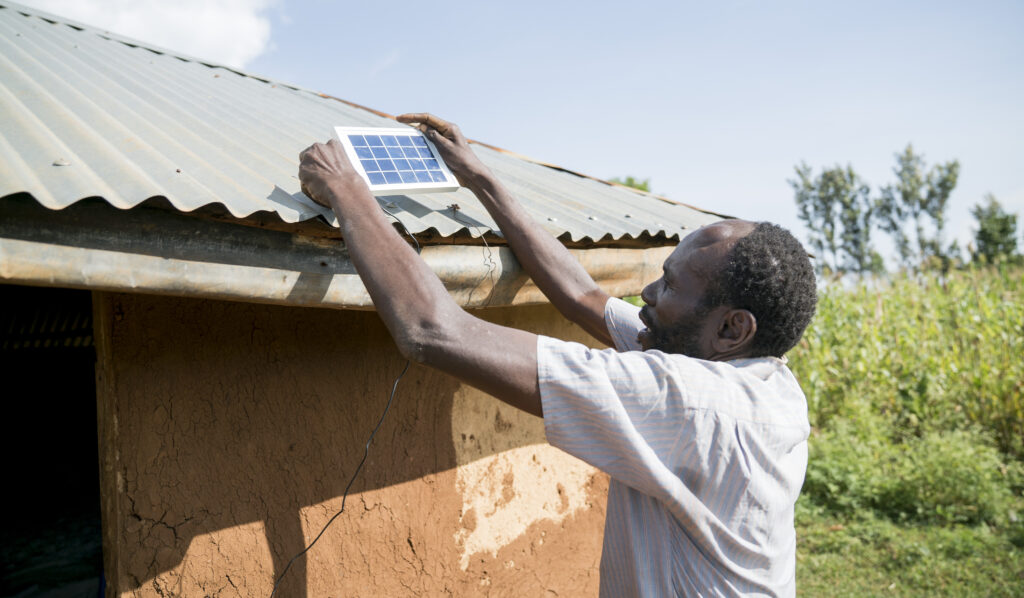 Installation of more complex systems may require a visit from specially trained personnel
Tasks can also smooth complex post-sales workflows, from coordinating the sale of upgrades to handling client concerns about their devices. For example, when a client calls to complain about their device, nearby employees can be tasked to take a look and gather information that can't be collected over the phone. Depending on the results of that assessment, the inspector can then update the condition of the unit and recommend next steps like replacing the unit or scheduling a visit from a technician to perform an on-site repair or adjustment. When a client requires a more complex repair or replacement, Tasks can keep track of exactly where in the process their claim is and make sure that the client's problem is resolved as efficiently as possible.
Tasks create a record of how your organization interacts with clients. This allows a distributor to quantify the effort and impact of their client satisfaction strategies. Over time, good task management fundamentally improves the way your whole company works. Imagine being able to know exactly how much of an impact sending an additional WhatsApp message to clients has on repayment rates. Now imagine if you could compare the relative efficacy of WhatsApp messages to phone calls or in-person visits.
The importance of learning from experience
The most successful business leaders are always learning from experience, and successful companies are no different. If your company is making do with a cobbled-together solution of manual records and endless spreadsheets, now is the time to embrace a data-driven approach. By tracking your client information and operational processes in a coordinated way, Angaza makes smart last-mile distributors smarter, more efficient, and better able to adapt to myriad disruptions from the natural to the man-made.
To learn more about how your company can connect insights to actions and schedule a demo, contact Angaza.