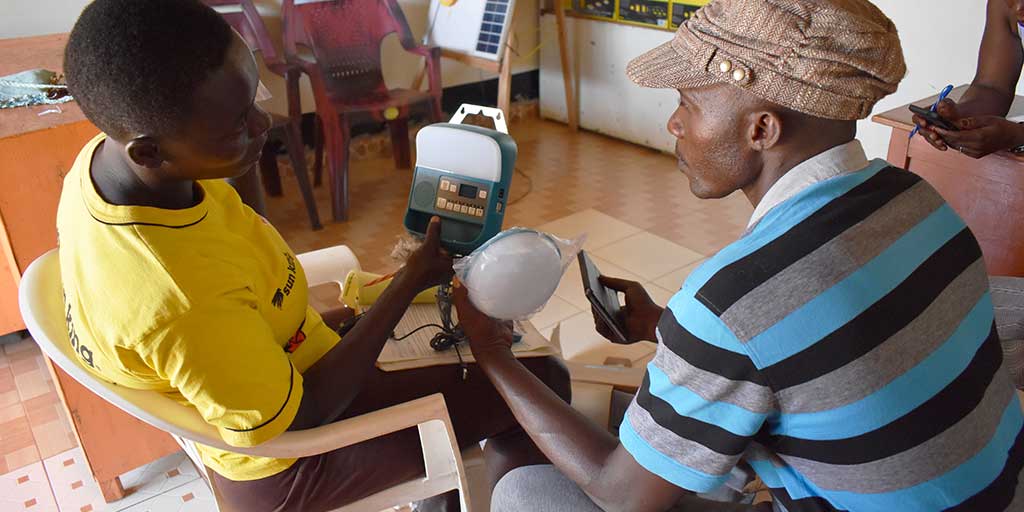 Our team at Angaza regularly visits our customers to understand their needs so we can better support their success. On a recent visit to western Kenya, we joined up with Mwezi solar, one of our last-mile distribution partners. To make solar products more financially accessible to low-income rural and peri-urban Kenyans, Mwezi solar started selling pay-as-you-go products using the Angaza platform in 2016. Read on below for observations from the trip on how Mwezi solar runs a pay-as-you-go product distribution business.
The first stop on the Mwezi visit is their office in Kisumu, where Mwezi stores over 4,000 units, ready to be deployed to the company's other locations in the area. Mwezi solar products ranging from cookstoves to solar home systems, and torches, are sold at shops, markets, and in the field in western Kenya.
Using the product sales data captured by Angaza's sales solution, Mwezi determines which types and the number of products to order for their distribution sale. Because Mwezi has visibility on the details of their complex distribution sales operations, they are able to set sales targets for their different locations and sales agents, and track how they are performing against the target numbers. 
After the office, we head to Mwezi's shop in Kombewa, a town in the outskirts of Kisumu. There, the branch manager is collecting information from a potential client of a TV system on Angaza's Activator app, which syncs with Angaza's platform, the Hub. Like many people in emerging markets, the potential client does not have a recorded credit history for Mwezi to assess her likelihood of paying off the pay-as-you-go product loan. To mitigate the risk of taking on clients who may default on a larger loan, Mwezi qualifies potential clients interested in higher cost products like TV systems and larger home systems after initially capturing their information.
One of the steps in the qualification process is a call from a call center agent in Nairobi, who will use the potential client's data on the Hub to ask questions that reveal her ability to pay, such as her source of income and how she plans to make the payments. If the call center agent approves the loan on the Hub, the sales agent assigned to the potential client will be alerted on their Activator app and will sell the product to her.
At the shop, a sales agent named Susanne is registering a new client using the Angaza Activator. To register clients, agents capture information such as the client's name, their phone number, the product's down payment amount, and the amount per subsequent payments. Mwezi collects payments through the mobile money platform M-Pesa, enabling their clients to pay from their phone and freeing Mwezi agents from traveling to clients to collect cash.
When making sales in the field, Susanne transports her products on Mwezi's bicycle. Bicycles are a cost-effective way to decrease travel time through villages, helping agents perform their job more efficiently.
After the shop, we head to an open market where four agents are posted for the day. To maximize sales, one agent typically mans the Mwezi table while three others walk around carrying a handful of products each.
The Activator app enables agents to work independently while providing transparency to Mwezi. For instance, instead of calling the Mwezi office for every sale, sales agents register new sales on the Activator app themselves. After making the sale, they track their clients' payment through the app and directly follow up on those who are behind on their loan. Because the sales and payment information is also on the Hub, managers have visibility over agents' performance.
During the field visit to Mwezi, we see firsthand the complexity of pay-as-you-go distribution sales and how the company has leveraged tools at their disposal to set themselves up for success. Since coming onboard with Angaza and launching pay-as-you-go product distribution two years ago, Mwezi has increased its sales 10-fold. While this is fantastic news for Mwezi, it also means that people throughout Kenya are affordably accessing life-changing products — products that enable them to save money, increase business opportunities, and support their families.