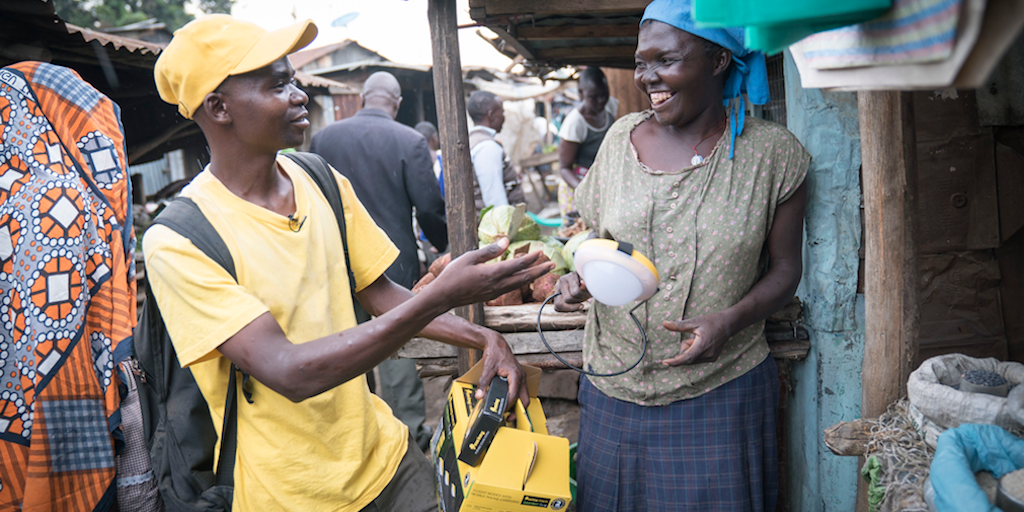 Running a product distribution business for consumers in emerging markets is a complex operation with many moving parts, from managing inventory and sales agents to identifying qualified consumers, to managing installment payments. Growing this sophisticated Pay-As-You-Go business model takes considerable strategizing and coordination. Since 2012, Angaza has supported the growth of over 150 last-mile distributors in emerging markets. Here are five tactics we've identified to help last-mile distributors scale their businesses
1. Offer Multiple Payment Plans
Because consumers want payment flexibility, tapping into this market demand can be fruitful to last-mile distributors. They can expand their client reach by offering multiple payment plans — upfront cash sales and pay-as-you-go financing — to meet potential clients' preferences. With upfront cash sales, businesses receive the full amount of the product as hard cash or mobile money payments at the point of sale, immediately increasing their cash flow. This payment plan, however, can leave out a segment of the market that cannot, or prefers not, to pay for products in one single payment.
Last-mile distributors can attract prospects who find upfront cash sales cost-prohibitive with pay-as-you-go (PAYG) loans. Through pay-as-you-go financing, clients are able to affordably purchase products through installment payments until the products are paid for in full or they can rent in perpetuity. Companies decide the exact loan terms and payment method, including the down payment amount, the installment payment size and schedule, and whether to accept cash, mobile money or both.
To mitigate the risk financial loans carry, distributors can determine which prospects are low-risk by exploring their ability to pay on time. Using the Angaza Activator app, distributors collect information on their prospects' income, expenses and credit history to assess prospects' creditworthiness and define loan terms before making sales. And, to increase the likelihood of timely payments, they build their portfolio with products designed specifically for PAYG sales.
2. Expand Product Portfolios
Product needs and desires vary from one consumer to the next. Beyond the products distributors sell to current clients, they can explore what else to add to their portfolio. What products might their clients consider buying next? Is the demand different for their prospects compared to their clients? Is there a market they haven't yet tapped into for smaller products, such as solar lamps; or for higher-end products, such as TVs and laptops?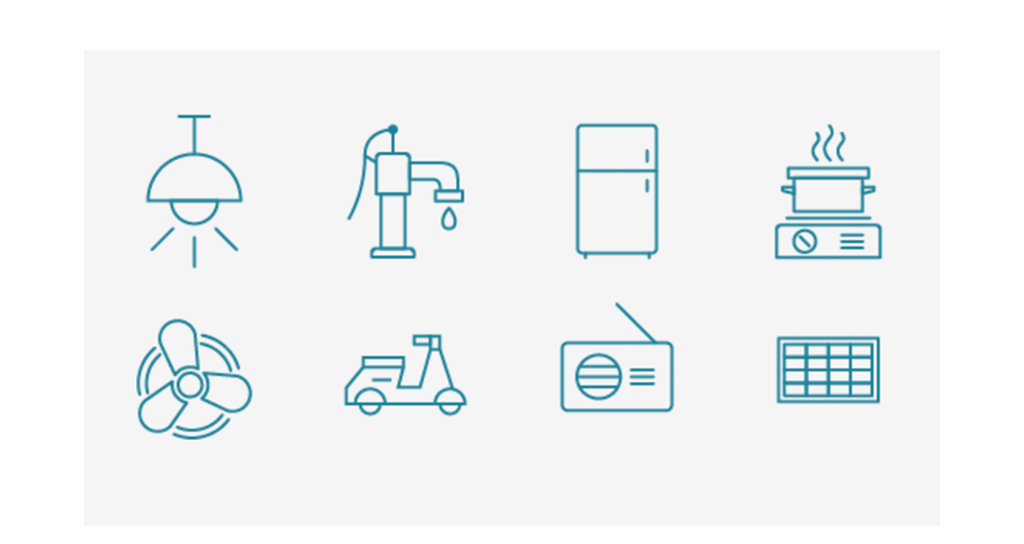 Researching product demand for their current clients, prospects, and other markets
enables distributors to strategically expand their product portfolio
Distributors can consider expanding their portfolio with pay-as-you-go enabled versions of in-demand products. At Angaza, we work with manufacturers who offer high-quality devices embedded with our pay-as-you-go metering and monitoring technology. These products, ranging from solar home systems to agribusiness products, enable distributors to enforce loans by automatically activating or deactivating the product based on clients' payment.
Thanks to the monitoring component of devices enabled with GSM cellular technology, distributors can remotely diagnose and address a range of issues, helping them gain powerful operational insights and provide superior client support. The GSM-enabled products' capabilities include providing device health and location data, and even tamper alerts.
3. Accept Mobile Money Payments
With the widespread consumer adoption of mobile money in many parts of the world, accepting mobile money payments can cast a wider net for potential clients than accepting cash alone. Using mobile money payments has additional benefits for distribution businesses; digital payments provide them a secure, efficient, and more cost-effective method of payment collection than cash. For example, distributors can reduce the frequency with which their sales agents need to travel to collect cash from their clients for pay-as-you-go loans.

Distributors are increasingly incorporating mobile money payments to securely and efficiently collect payments
Because of Angaza's numerous integrations with global mobile network operators, our distribution customers have over 30 mobile payment integrations across 16 countries to take advantage of.
4. Use Digital Tools for Analysis and Automation
By digitizing their operations and centralizing their data, last-mile distributors can automate operations, increase efficiency, and unlock valuable insights. Our customers' sales agent networks use our Android Activator app to conduct sales and track their clients' payments. Because the app syncs with the Hub platform, their data is stored in one central location for managers to view, manage, and analyze.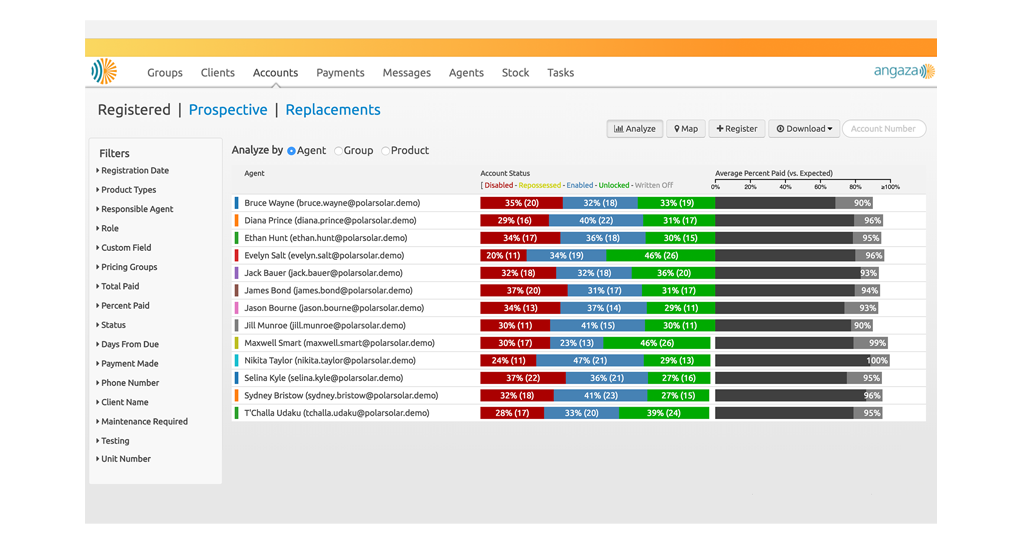 The Angaza platform is specifically designed for last-mile distributors
to increase efficiency, gain insights, and drive decisions
With effective monitoring and analytics tools, distributors using Angaza's platform track their inventory movement in the field, identify the most popular products in their product portfolio and regions with the highest sales, and view and compare sales agents' performance. If offering pay-as-you-go loans, they can view their clients' payment status and who is at risk of defaulting on their loan. Then, they leverage data to drive their distribution business operations, such as increasing the number of products available in regions where they've performed well, auto-sending payment reminder SMS messages to clients, and formulating an effective plan to secure payments from clients at risk of defaulting on their loans. And, by integrating with other software, distributors can effortlessly synchronize their operations.
5. Increase Clients' Lifetime Value
Distributors can increase their clients' lifetime value through excellent customer service and high-quality products so that their clients are more likely to purchase additional products from the company they trust. Given the demand for higher-end products like TVs and smartphones, distributors have opportunities to sell products with higher value to their repeat clients.
These high-cost products may be more appealing to clients when combined with pay-as-you-go financing. If providing PAYG loans, distribution businesses can use their clients' payment history to identify who is more likely to stick to the loan terms. If selling products that are not PAYG enabled, they can leverage clients' PAYG enabled products as collateral. Distributors use Angaza's Remetering feature on the Hub to enforce loans by reactivating the metering functionality in their clients' fully paid PAYG enabled products. If a client is late on their payment for the new, non-PAYG enabled product, their metered product deactivates until they make a payment.
To market new products that have come online recently, our distributor partners can send bulk SMS messages from the Angaza platform.
To learn more about how you can grow your distribution business with Angaza, visit our solution page or contact us.