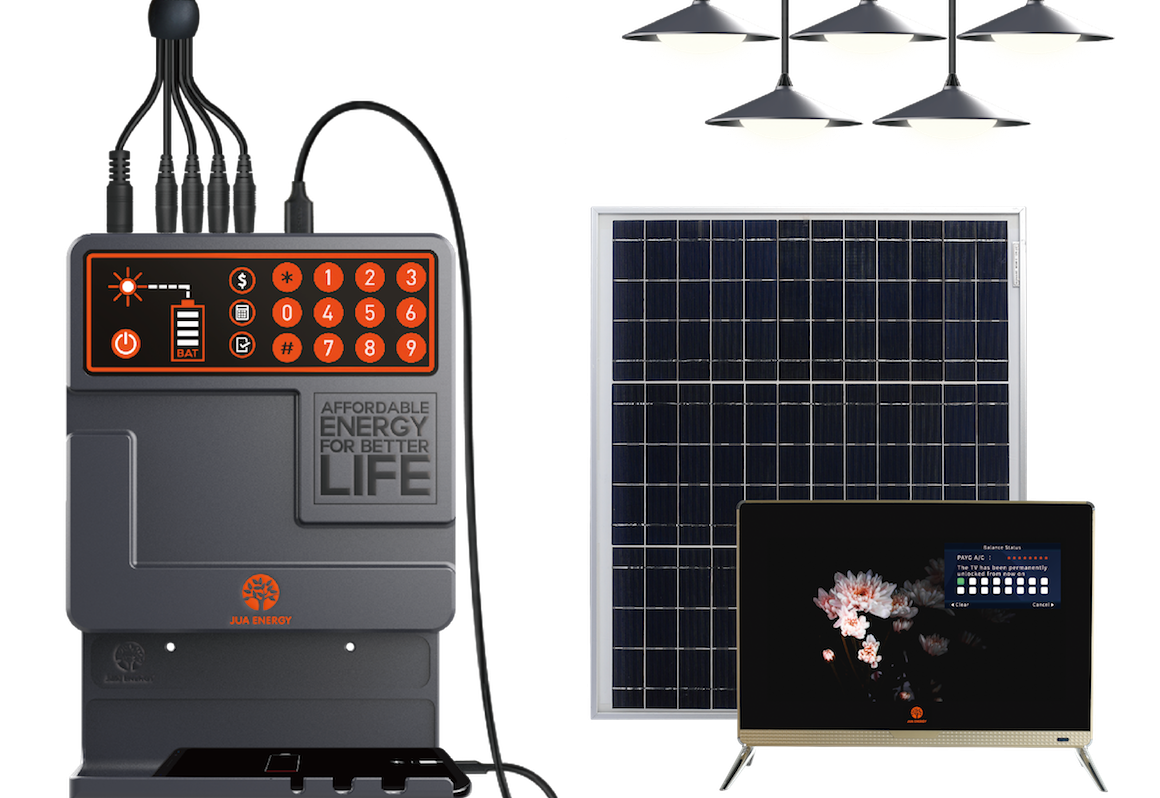 Angaza and Jua Energy are growing their partnership with two new lines of products embedded with Angaza's Pay-As-You-Go technology. With their various battery sizes and accessories, the products enable distributors to offer multiple product options to their consumers.
"We're excited to partner with Jua Energy again, this time on the H3G and H4G," says Angaza CEO Lesley Marincola. "The H3G and H4G lines of solar home systems offer last-mile consumers a variety of options to choose from, helping them affordably access clean energy to light their homes and power appliances."
All H3G solar home systems come with a solar panel, the option of three, four, or five lights depending on the chosen battery capacity. Consumers can choose between four standard versions for the battery: 28Wh, 38Wh (three lights), 76Wh (four lights), and 110Wh (five lights). The solar home systems with 28Wh and 38Wh sized batteries power radio and light and charge two mobile phones via USB port. An additional multiple dock charging cable is included to charge multiple mobile phones all at once. The 76Wh and 110Wh can do all that and more; they support a DC TV and fan.
All H4G solar home systems come with a solar panel (80w), hanging lights, TV, and fan. Consumers can choose between four standard versions of the battery 150Wh, 180Wh, 220Wh, 240Wh, 280Wh, 300Wh, and 360Wh. Each system the Jua H3G and H4G solar home systems comes with a two-year warranty.
According to the GOGLA off-grid solar market report, H2 2019, solar home system sales saw an overall 22 percent increase, continuing the trend of strong growth. Increases in sales in this product category are driven by greater affordability due to pay-as-you-go solutions like Angaza and increasing consumer demand for appliances, including TVs, fans, refrigeration units, and solar water pumps.
"The Jua H3G and H4G were created keeping end-users' needs in mind," says Jua Energy Deputy General Manager Hill Ren. "By offering two lines of products with various offerings, consumers can select the product that works for their specific needs, whether it be lighting or powering a TV."
The JUA Solar Energy H3G and H4G solar home systems are now available for sale by product distributors in Africa, Asia, and the Caribbean using Angaza's software platform, joining a portfolio of over 30 life-changing products. Contact Angaza to begin offering the Angaza Pay-As-You-Go enabled Jua Energy H3G and H4G solar home systems.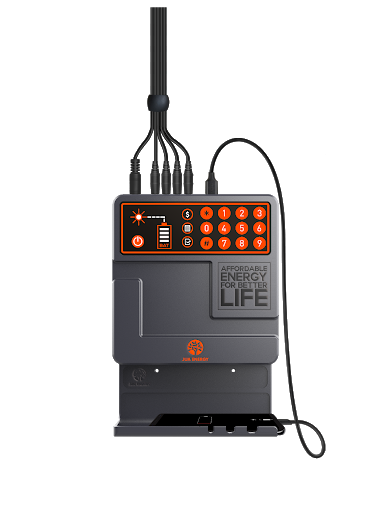 Jua H3G Product Details
Hanging lights and radio (H3G-28Wh and -38Wh only)

Hanging lights, radio, DC fan, TV (H3G-76Wh and -110Wh only)

USB port for charging

Solar panel 40w

Battery 28Wh or 38Wh or 76Wh or 110Wh

PAYG functionality
Jua H4G Product Details 
Hanging lights, TV, fan

USB port for charging

Solar panel 80w

Battery 150Wh or 180Wh or 220Wh or 240Wh or 280Wh or 300Wh or 360Wh

PAYG functionality