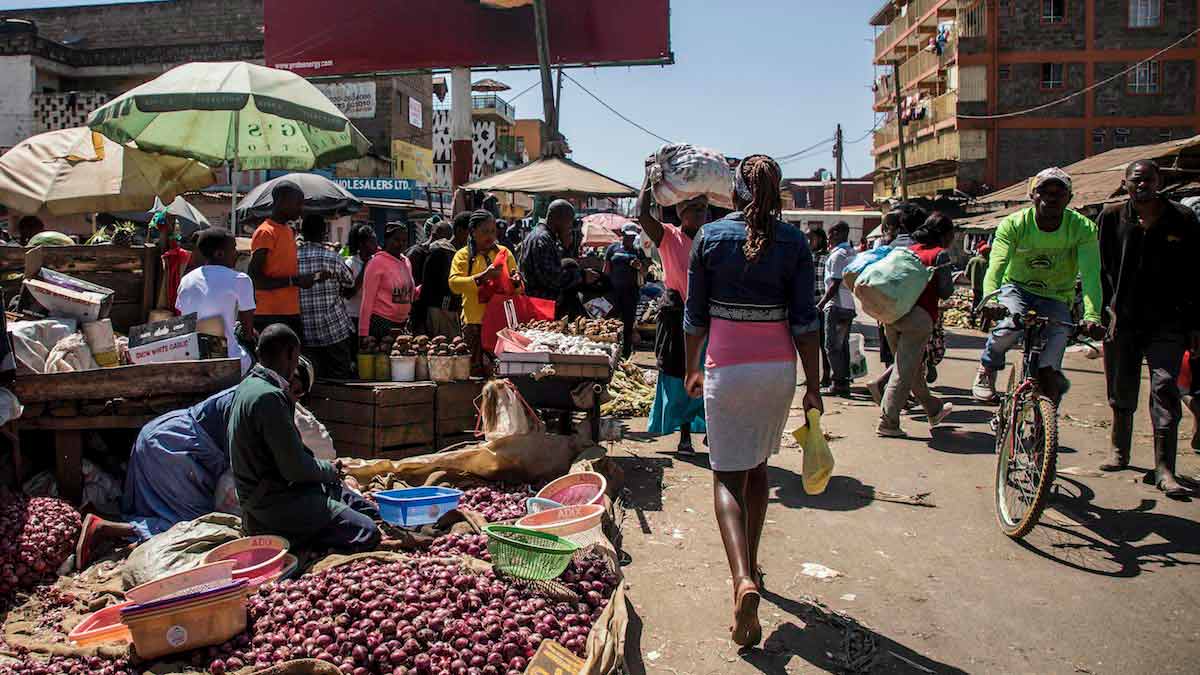 Angaza and JUA Energy are partnering to bring last-mile clients a standalone television, available on a pay-as-you-go basis. JUA Energy's TV1G, an 18.5 inch TFT LCD television with LED backlight, operates with any 12V (10W) power supply, including the Jua Energy system products. This unique standalone TV is integrated with Angaza's Pay-As-You-Go technology, enabling clients in emerging markets to pay for their television in affordable increments while utilizing any power supply of their choice.
"We are excited to partner with JUA Energy because of our aligned missions of improving the lives of people across Africa by providing life-changing products and services," says Angaza CEO Lesley Marincola. "The JUA Energy TV1G is the first standalone television in our product portfolio, allowing clients the opportunity to add a television to a previously purchased solar home system — regardless of brand."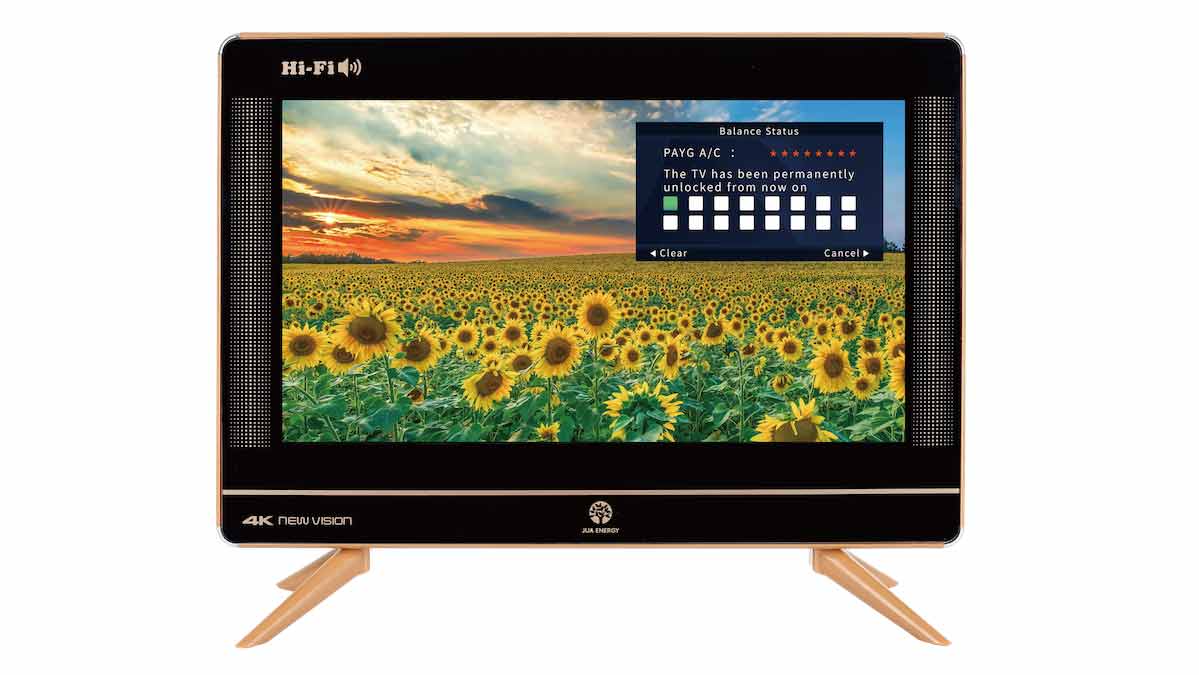 Televisions are one of the most desired appliances by off-grid households and businesses. According to Global LEAP Awards and CLASP, "The off-grid solar-powered television market has the potential to grow at a rate of 25 percent annually and estimates suggest that the annual spend in 2020 could reach USD $3.1 billion." The TV1G is well-positioned for African markets too. According to GOGLA's Off-Grid Solar Market Report, TVs are mostly sold on a pay-as-you-go basis within Sub-Saharan Africa, specifically East Africa, making up 92% of the total TV units sold between June and December 2018.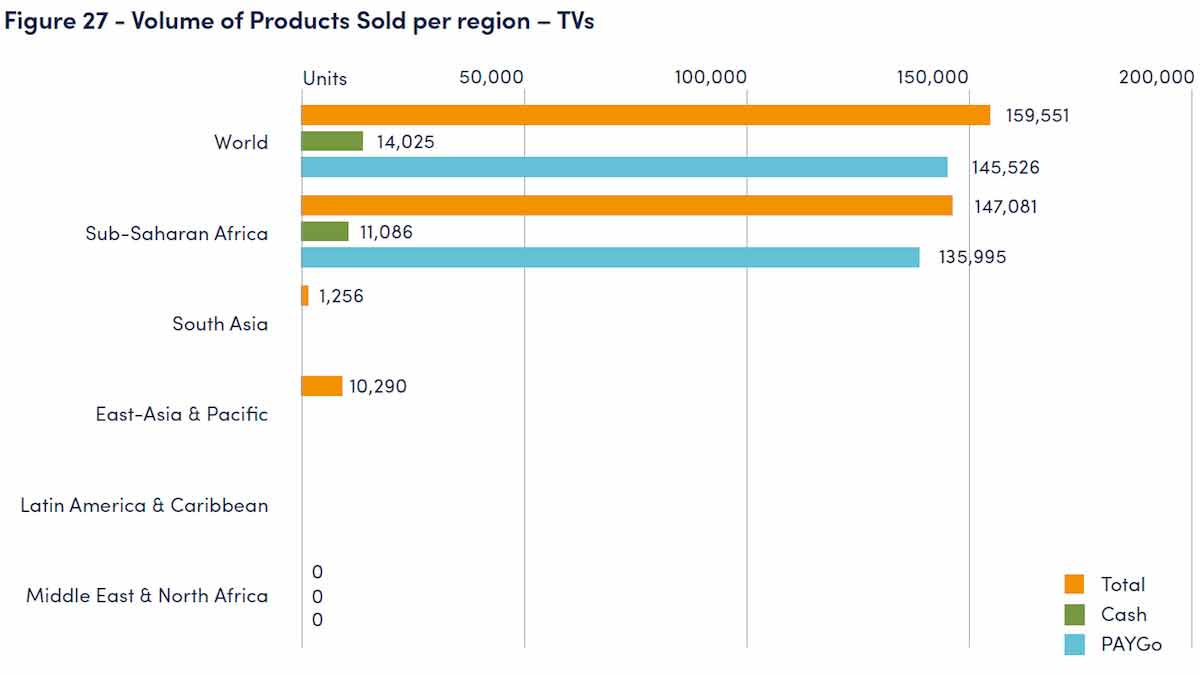 Image credit: GOGLA
Medium-sized televisions, like the TV1G, make up 49% of all pay-as-you-go tv sales in West Africa, and 30% of sales in East Africa. Medium-sized off-grid televisions are specifically popular for social reasons. They can be shown to a larger group of people and can support education by providing access to educational content and news. And, the price increase from a small television is negligible when considering the social benefits medium-sized TVs offer.
"We are thrilled to offer the JUA Energy TV1G with Angaza's embedded Pay-As-You-Go technology," says JUA Energy Co-Founder Hill Ren. "Our goal is to provide high-end technological products and services to as many people as possible across the African continent. With Angaza's payment technology we're able to serve more people, faster, by removing the financial barriers large down payments or lump sum purchases create."
The JUA Energy TV1G is now available for sale by product distributors using Angaza's pay-as-you-go software platform, joining a portfolio of over 40 life-changing products from solar home systems to household appliances, providing distributors more choice of products than any Pay-As-You-Go provider on the market. Contact Angaza to begin offering the Angaza Pay-As-You-Go Jua Energy TV1G.
JUA Energy TV1G Product Details
18.5 inch TFT LCD with LED Backlight
TV resolution: 1366 x 768
Aspect ratio: 16:9
Video input: VGA, HDMI, CVBS
Audio input: PC Audio, CVBS
Multi-language menu
USB multimedia player
DC Input: 12V
Standby consumption: <0.25W
Power consumption: <10W
Overvoltage and polarity protection
PAYG functionality operated by using remote controller
1 year warranty