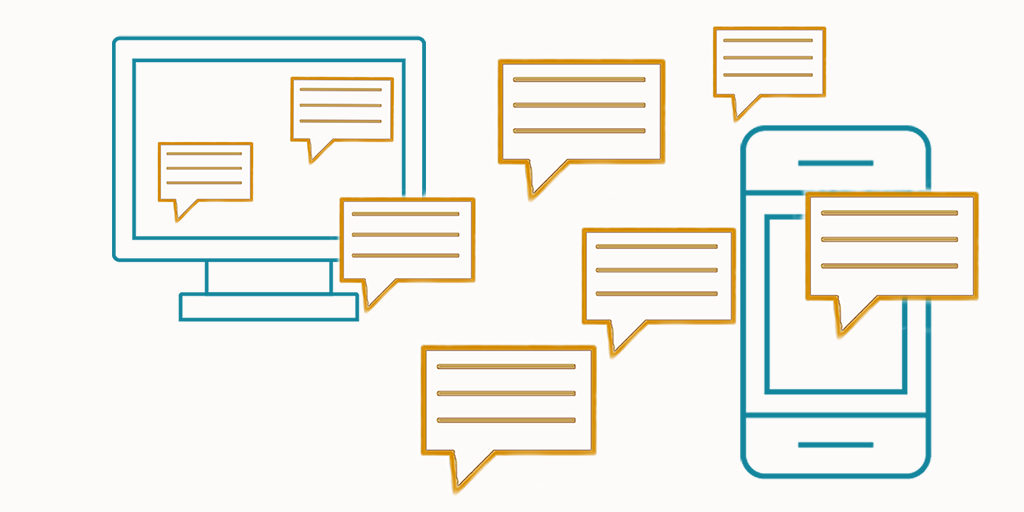 Pay-as-you-go (PAYG) financing greatly increases access to life-changing products for consumers while providing product distributors with lower financial risks as they scale in emerging markets. The nature of pay-as-you-go loans extend and deepen the relationship between buyer and seller, turning what could be a one-time purchase into a months and even years-long financial and service commitment. Communication is key to maintaining that relationship and ultimately to scaling a distributor's operations. For many last-mile distributors, SMS is the most efficient and reliable way to reach their client base. On average, pay-as-you-go distributors send over 60 SMS notifications to their clients about their account status over the course of their loan term.
When Last-mile distributors need to communicate about important updates, promotions, and service information to a large number of their clients, they turn to Bulk SMS. Angaza is making it easier than ever to communicate with clients, individually and en masse, by building Bulk SMS functionality right into the Angaza Hub.
Below are three ways Last-mile distributors use Bulk SMS service to develop lasting relationships with their clients, streamline operations, and increase sales.

Bulk SMS Amplifies Announcements
Things move fast in the world of last-mile distribution, and you need to keep your clients in the loop. Bulk SMS is a great way to get the most important and relevant information about your organization into your client's hand.
Let's say you've opened a new service center; the most efficient way to get the news out is to send a Bulk SMS to account-holders in that region with a device that can be serviced at that center. Or, maybe you have a new field agent who will be taking over some existing accounts. Sending a bulk SMS lets clients know that their point of contact has changed and why. With the bulk SMS tool you can use your Angaza account criteria to determine the right clients or upload a custom list, ensuring that you reach the right audience.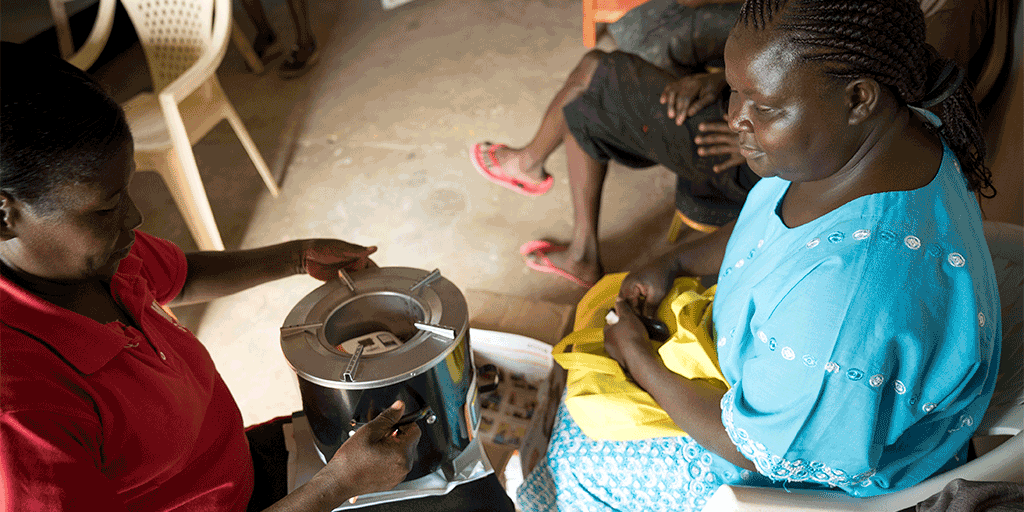 You can engage clients who are eligible for remetering with Bulk SMS to sell in demand non-metered products like cookstoves.

Always Be Selling with Bulk SMS
Pay-as-you-go business models allow people without traditional credit to purchase products by paying for them in affordable increments over time. As these clients build up a record of reliable payment, distributors have an opportunity to sell life-changing products to these clients while minimizing risk of non-payment. Selling a second product to an existing client is more efficient than constantly trying to find new clients and further strengthens the relationship you have built.
Clients who have already successfully paid off a loan are especially strong candidates for purchasing in-demand products that do not have built in metering capabilities like cookstoves, phones, and motorbikes using Angaza's Remetering feature. To reach out to these clients, you would begin by selecting accounts that are unlocked. You might choose to further refine your selection by choosing only those who made their last payment within a given period of time, say the last year. Finally, you might decide to select only those who purchased a product that you believe they would be particularly motivated to keep on, for instance a Solar Home System. Using the Bulk SMS tool, you can create a customized message that tells them about the new product that they are eligible for and invites them to contact their sales agent.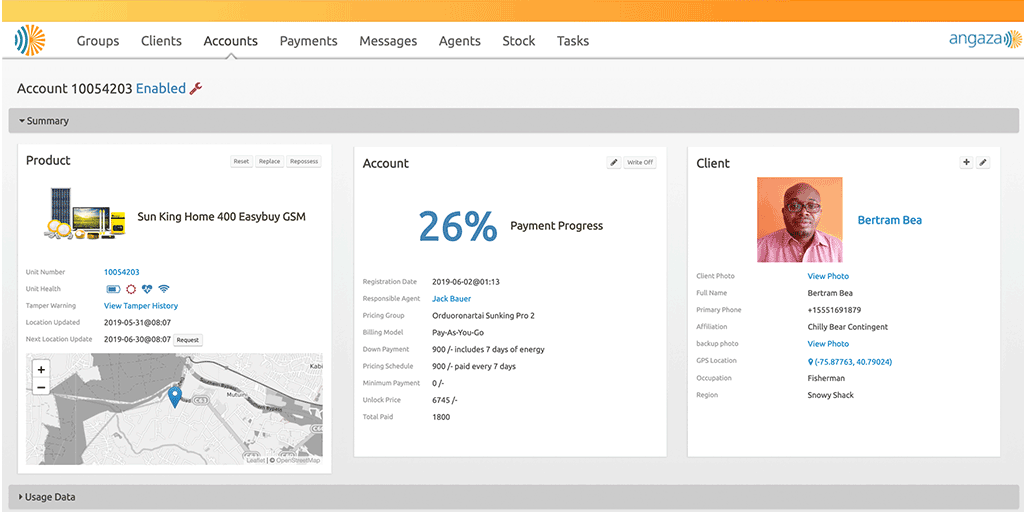 The vast majority of unhappy clients will not let you know when they have a problem – but IoT by Angaza devices will.

Client Check-ups Can Crush Churn
Truly great client service is proactive, not reactive. It is estimated that only 1 in 26 unhappy clients will complain to a company about their issue. The vast majority of those quietly unhappy clients will churn, leaving loans unpaid and sharing their negative experience with their community. You can engage clients who are likely to be experiencing a problem with bulk SMS. For instance, you can let clients know that a mobile repair person is in their region and let them call to schedule a service, or use Bulk SMS to follow up with accounts that have previously reported an error.
With IoT by Angaza, last-mile distributors can go one step further and see when qualified devices are underperforming and understand the most likely cause of the error. Last-mile distributors can send bulk SMS messages to clients who have devices with active Unit Health alerts to offer support. Many of the most common errors, such as poor solar panel placement resulting in lower than average charge, are subtle enough to make a user believe that the product they have bought is underpowered without realizing that there is an actual solvable problem. To learn more about how IoT by Angaza uses device data to improve the client experience.

The Bottom Line
Effective client communication is crucial to scaling your last-mile distribution business. Effective communication relies on knowing your client and being able to reach them in an accessible meaningful way. When you combine the insights and information in Angaza's Hub with the adaptability of bulk SMS, you can not only reduce frustration but drive growth.