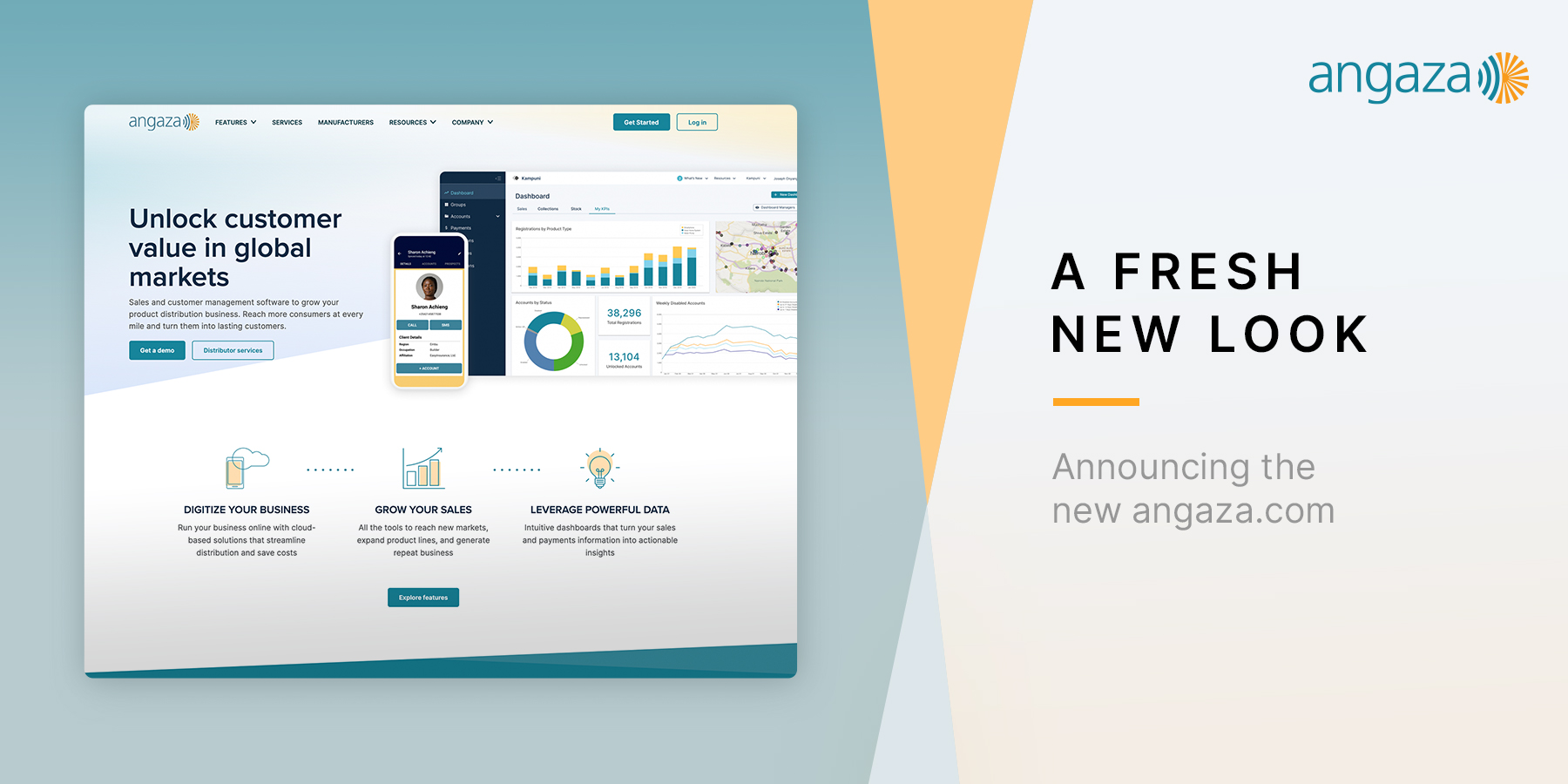 We are thrilled to announce that Angaza has a new look! This week, we unveiled a fresh new website design, one of several initiatives we are taking to ensure our partners get the best experience with Angaza on their path to scale. 
We're excited to share this next phase of our brand with you, as it brings new opportunities to deliver even more value to our partners and customers. In addition to a more contemporary look, you'll experience easier access to helpful resources and information to grow your business. 
Keep reading to discover a few of the exciting features and changes you can expect to see the next time you visit www.angaza.com: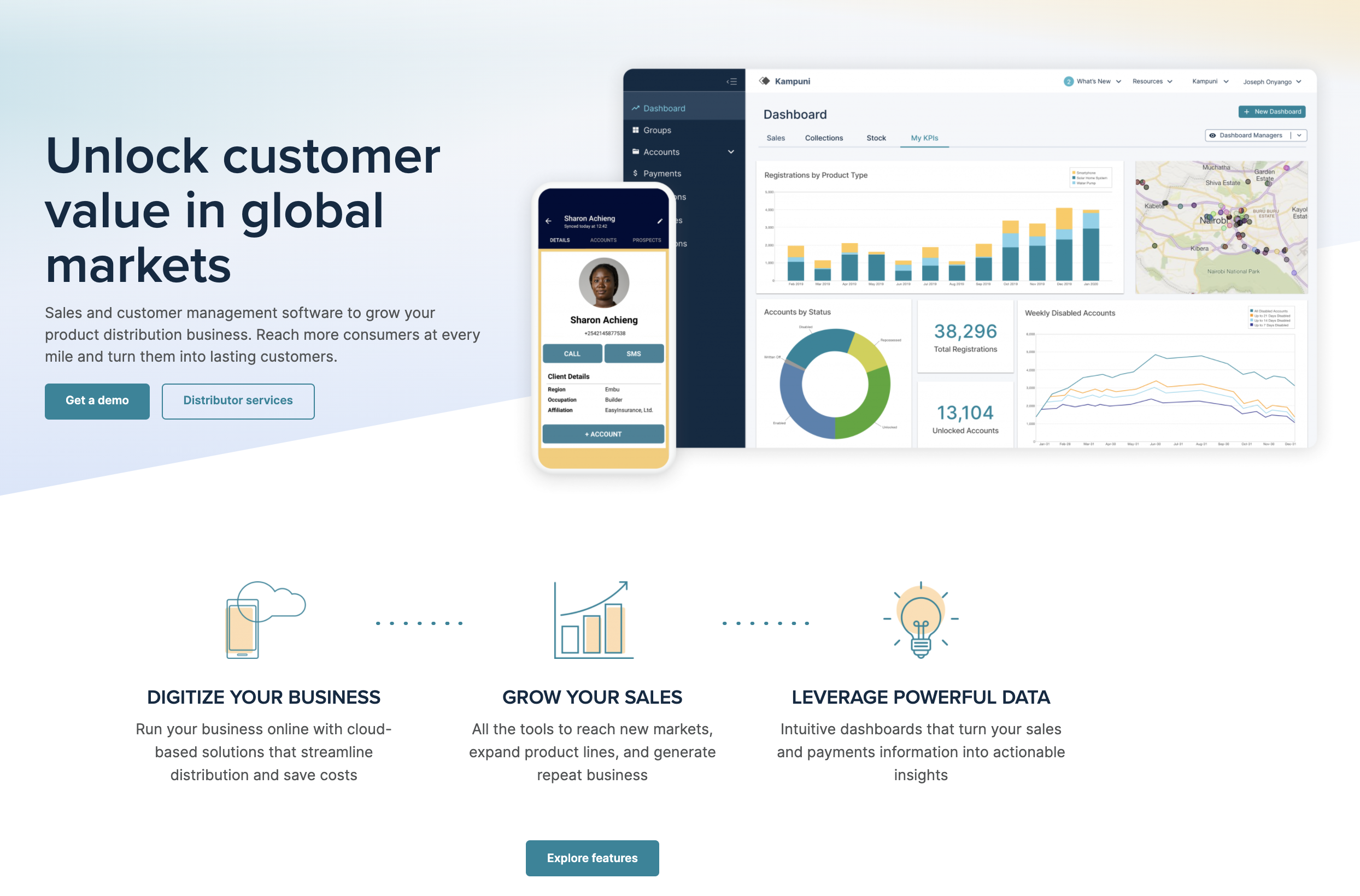 Updated design
The first thing you'll notice when you visit any of our pages is our polished new look! We've opted for sophisticated designs that emphasize modern visuals and detailed software images across the site. Explore our beautiful new Home page for the full effect.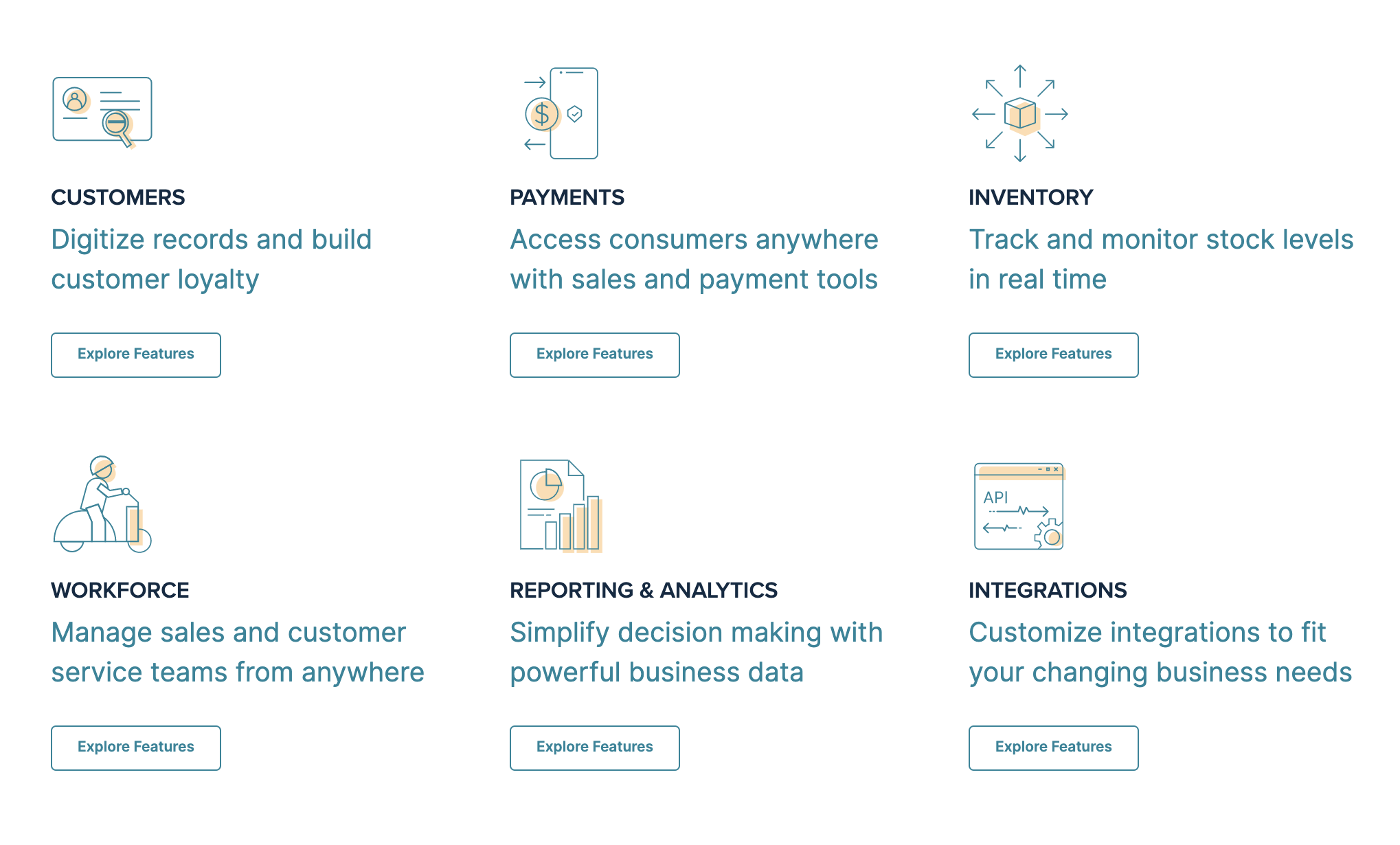 Platform features
Grasp the full power of the Angaza solution in our new Features section, which highlights Angaza's key software features and functionalities. On the Customers, Payments, Inventory, Workforce, Reporting & Analytics, and Integrations pages, you'll find detailed insights about how the platform is designed to help product distributors manage and scale their businesses at every stage of growth.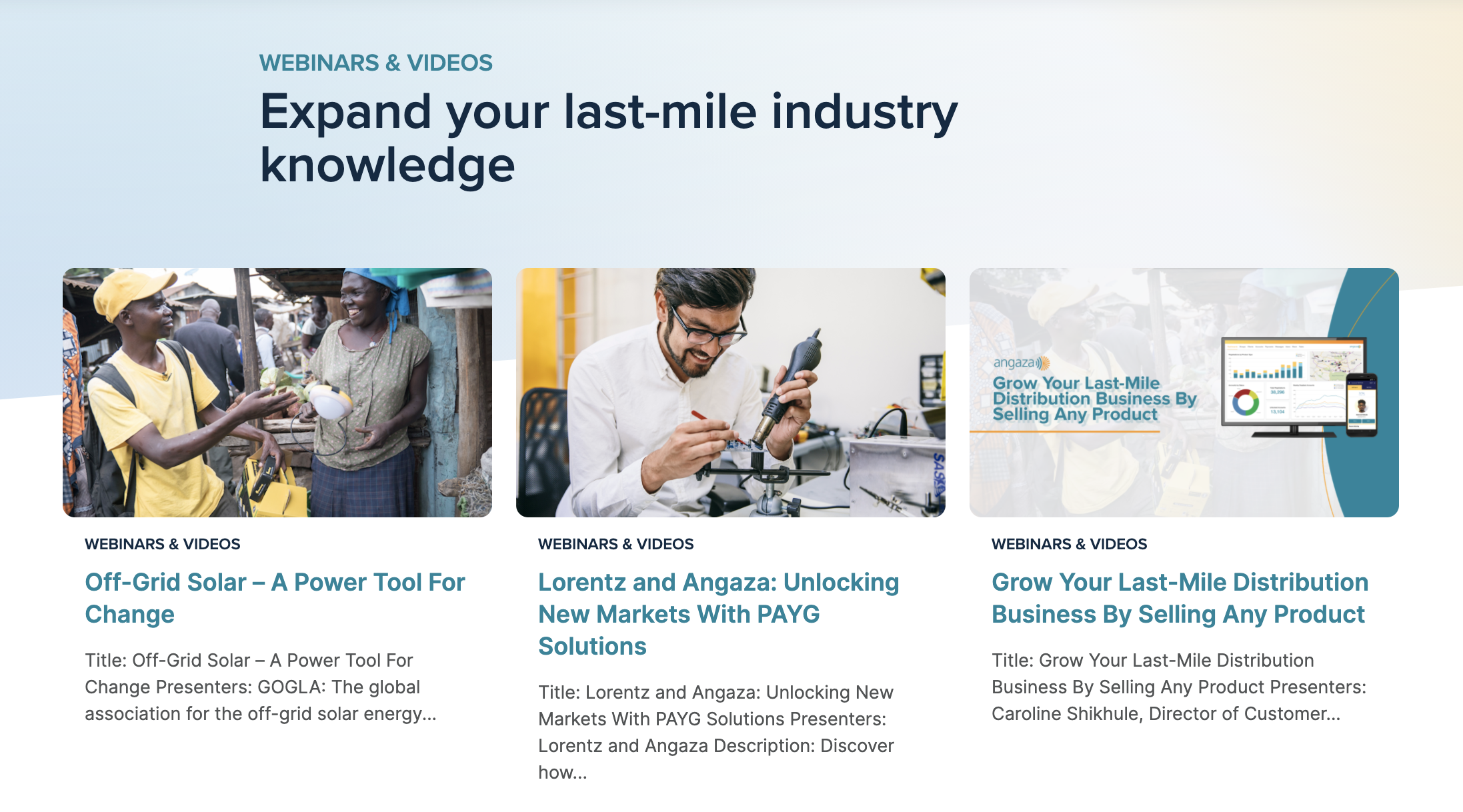 Learning resources
We want you to be able to find the resources you need to learn more about the Angaza solution and the last-mile distribution industry. Our helpful Resources library is designed to give you access to easily sortable blog articles, videos and webinars that provide useful product knowledge and the latest industry insights.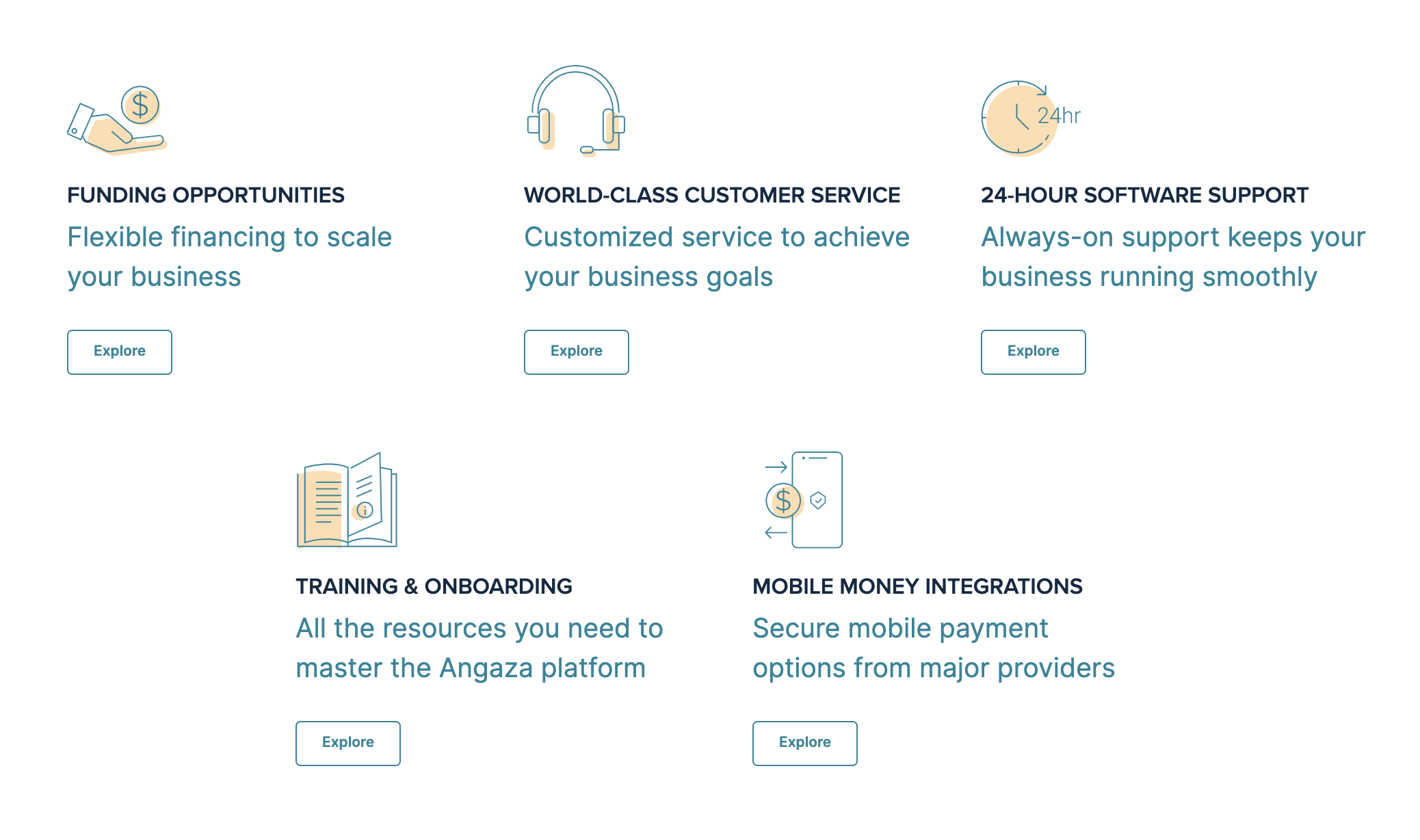 Distributor services
Gain a deeper understanding of the services Angaza offers to product distributors in our new Services section. We've outlined our comprehensive suite of distributor services, from world-class customer support and training, to funding opportunities that offer debt capital infusions to eligible businesses.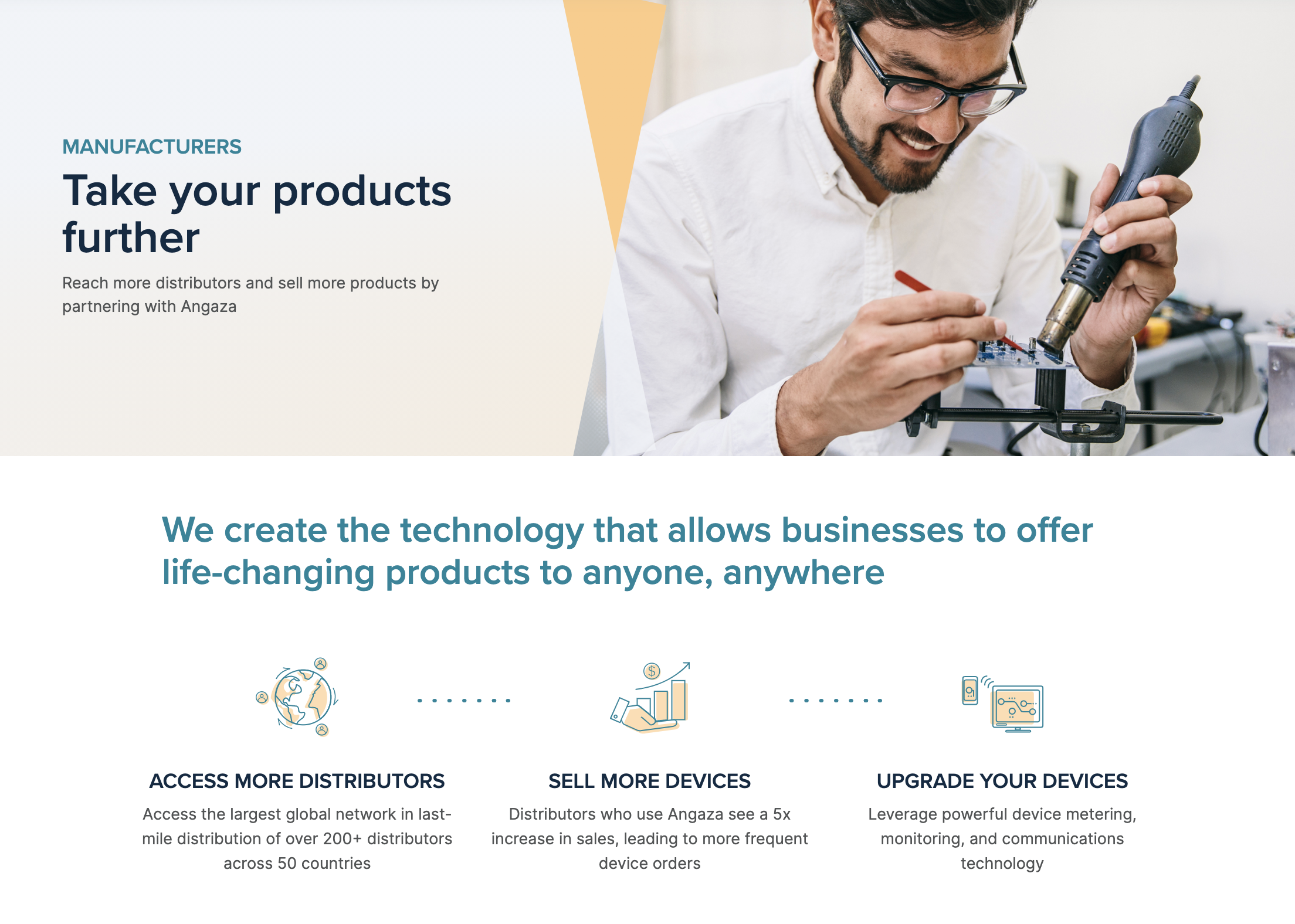 Manufacturing partnerships
Visit our new Manufacturers page to explore the technology solutions available for manufacturers. From secure PAYG payment enforcement, to real-time data on device performance, you'll discover how a partnership with Angaza makes devices more powerful and accessible to our global network of partners.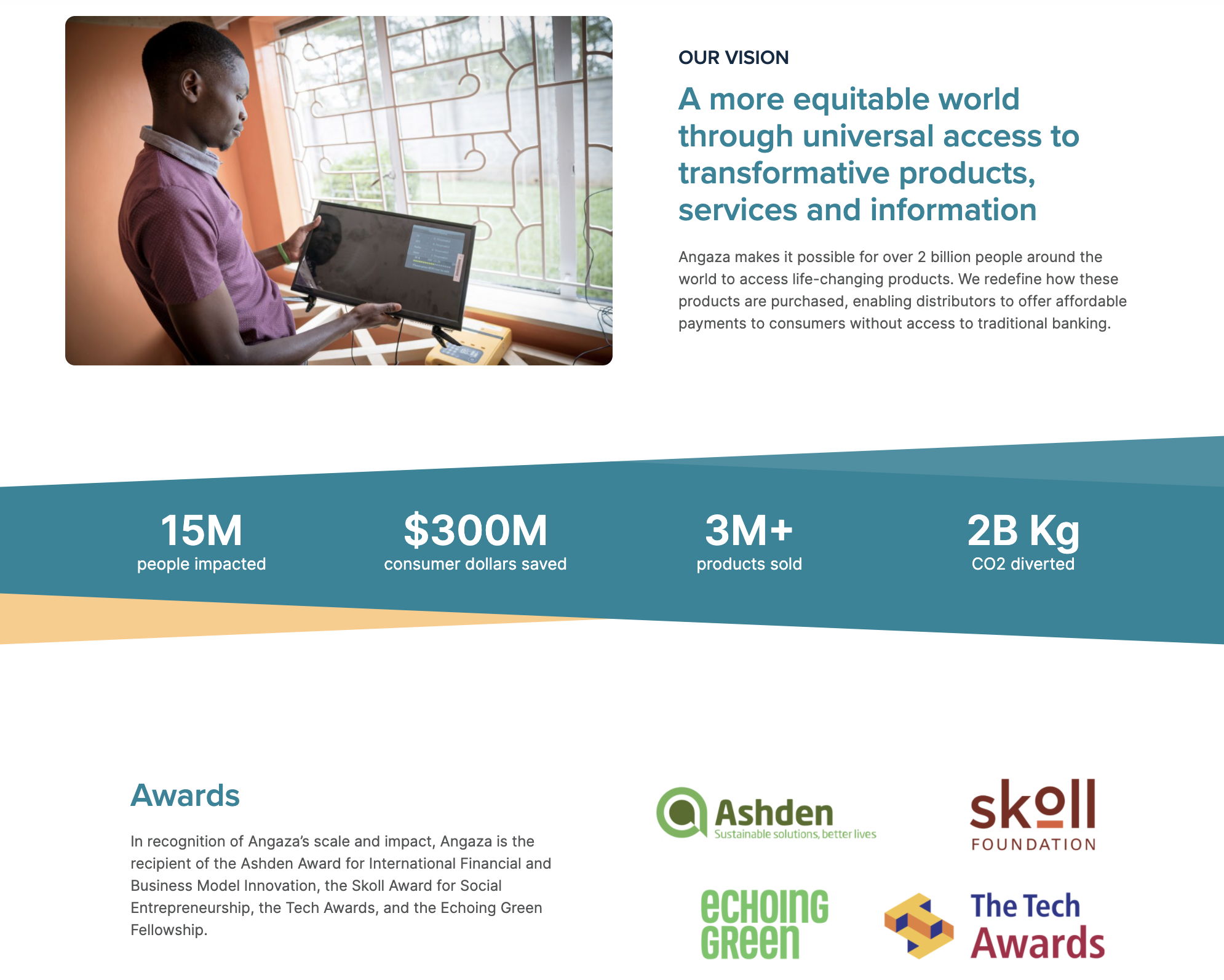 Our vision and impact
If you're eager to learn more about Angaza's mission and our vision for expanding access to transformative products, services and information across the globe, then visit our new About Us section. You'll find some of our most promising impact metrics, and the latest company news and announcements.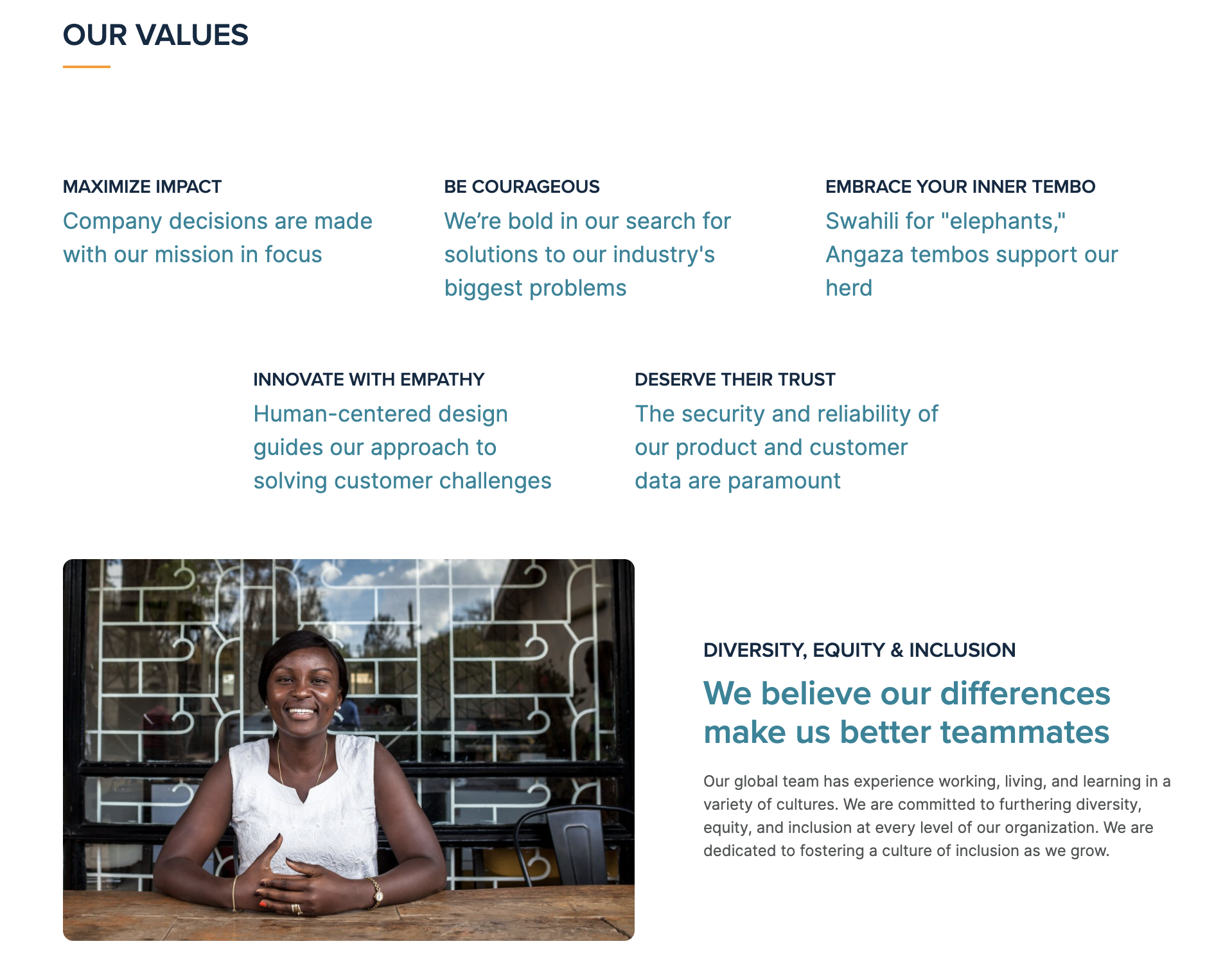 Opportunities with Angaza
We're always excited to welcome new Angazans to our herd, and our refreshed Careers page is designed to help you understand our core values and what it means to join the Angaza team. We've emphasized the values that define our approach to creating an inclusive and productive workplace, and outlined the employee benefits our staff can expect to receive when they work with us.
We encourage you to explore the rest of the website yourself to get the full experience! As always, we thank you for your support and interest as we further our mission to create the technology that allows businesses around the world to offer life-changing products to anyone, anywhere.
Stay tuned in the coming weeks for more exciting announcements about additional enhancements we're making to the Angaza platform to create a more seamless and intuitive experience for our users.
        — Your Friends at Angaza