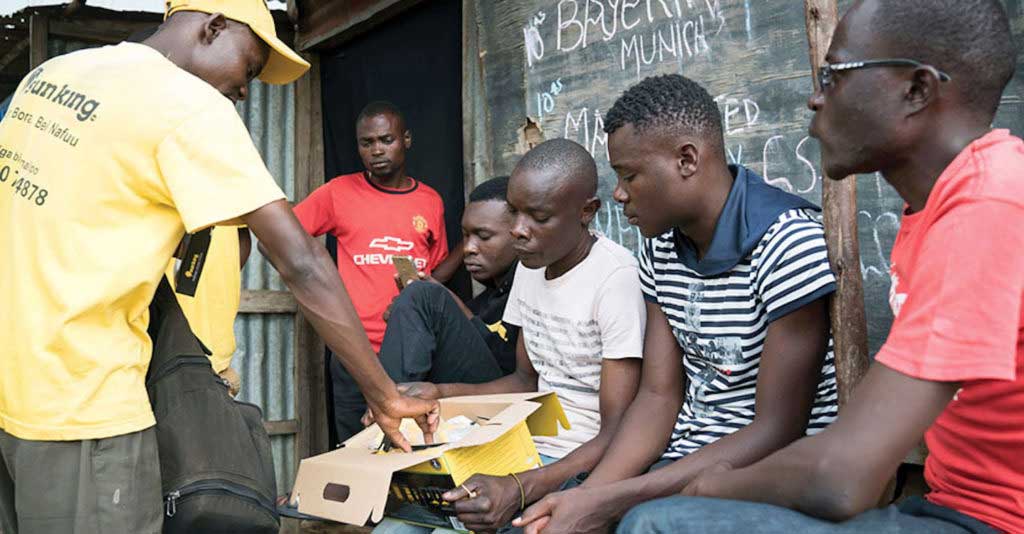 In last-mile markets, building positive relationships with low income consumers is critical if businesses intend to increase repeat sales and foster sustainable, long-term sales growth. With the right tools and technologies, last-mile distribution businesses in emerging economies can move beyond one-time or limited sales interactions, and provide consumers with the options they need to make purchasing multiple life-changing products affordable and convenient. 
Last-mile distributors that provide buyers with access to a variety of secure payment models and modalities are more likely to elicit future purchases and peer recommendations from their customers. And, last-mile customers who receive timely reminders and promotional notifications via mobile technology are more likely to make on-time payments and increasingly sophisticated product purchases. Read on below to discover three key ways last-mile distributors can capitalize on increased demand for durable goods in emerging markets by building mutually beneficial relationships with last-mile consumers.
1. Move beyond transactional sales to repeat sales with the right billing models
Transforming low-income customers in emerging markets into long-term advocates of a particular distribution business isn't out of reach for sellers in these markets. One key way to nurture client loyalty within this demographic is to provide last-mile consumers with the payment choices they need to make purchasing products simple and appealing. A variety of different payment modalities and sales/billing models are supported by the Angaza platform that make selling PAYG (metered) products and non-metered products convenient for both consumers and sales agents alike. 
With the Angaza platform, sales agents are enabled to collect payment for any product in the form of secure billing models illustrated below:
Direct Sales Billing Model:

Sometimes referred to as "cash and carry," is the classic, simple sales model in which one up-front payment covers the entire price of the product. The only information that must be configured at the time of purchase is the final purchase price.

Perpetual Lease Billing Model:

Organizations sometimes sell ongoing services or lease products indefinitely. Rather than having an unlock price and payback time frame, these accounts are instead designed to last as long as a customer is interested in paying to access the service or product. The Perpetual Lease billing model is incredibly simple to initiate, and allows distributors to sell any product or service on a recurring, no-term limit basis that is reflected clearly across their operations within the Angaza platform.

Pay-As-You-Go Billing Model:

For PAYG accounts with Angaza, payments are made over the lifetime of the product loan until the account reaches the product's unlock price. Catch-up payments are not required. Configuring the PAYG billing model is simple and only requires configuration of an initial down payment, a pricing/payment schedule, a minimum payment amount and a final product unlock price
2. Use flexible payment options for a seamless experience to increase client loyalty
The above recommended billing models provide last-mile distributors with the versatility to meet their customer's needs, while accurately tracking payment information. In addition to flexible billing options, Angaza also supports different formats of currency exchange to help make the last-mile sales process as smooth as possible. The Angaza Hub and Activator support the collection of cash payments and installments for any product or service offering, including bundled offers.
Distributors can also leverage mobile money payments on the Angaza platform, with over 60 mobile money operators integrated to date. Taking advantage of Angaza's digital payment functionality can help reduce the need for in-person sales interactions and limit the spread of COVID-19 in affected regions. When a customer submits a mobile money payment, the distributor's Angaza account is credited with that payment amount, removing the need for a sales agent to physically collect and record cash exchanges in a contactless manner.
3. Utilize bulk SMS functionality to reduce payment defaults and encourage purchases
A consumer's access to a mobile phone also enables last-mile distributors to send them SMS communications with a variety of updates and information. Bulk SMS sends, which are supported on the Angaza platform, are an incredibly simple and efficient way for last-mile distributors to accomplish many tasks, including:
Reminding customers about upcoming payment deadlines

Notifying customers about new product availability to encourage ongoing purchases

Sharing promotional offers (like referral bonuses) and opportunities for trade-ins or product upgrades with customers

and more 
When distributors use SMS push notifications to communicate with buyers throughout their customer lifecycle, they can help greatly reduce their customers' payment default risk while also encouraging an ongoing relationship that results in repeat sales. 
As an example of this, a particular Angaza customer has observed a significantly positive impact on their last-mile sales operations as a result of using Angaza's bulk SMS feature for over a year now. This distributor has sent over 30,000 messages within 188 bulk SMS jobs. Toward the end of 2020, this distributor's SMS jobs consisted primarily of promotional messages and payment reminders. As a result, they were able to dramatically increase their sales and payment collections numbers in November and December, recording their best quarter in Q4 2020. The power of SMS communications for customer relationship building in last-mile markets cannot be underestimated.

At the end of the day, satisfied customers whose purchasing needs are met conveniently and consistently will be the most likely candidates for generating more repeat sales in last-mile markets. With the right tools and technologies, last-mile distributors can provide low-income consumers with the opportunities necessary to afford multiple sophisticated products that might otherwise be out of their reach. Efficient and secure billing models, a variety of payment modalities including mobile money, and effective SMS communication are a few of the key ways last-mile distributors can capitalize on demand for durable goods while limiting payment default risk with low-income consumers.