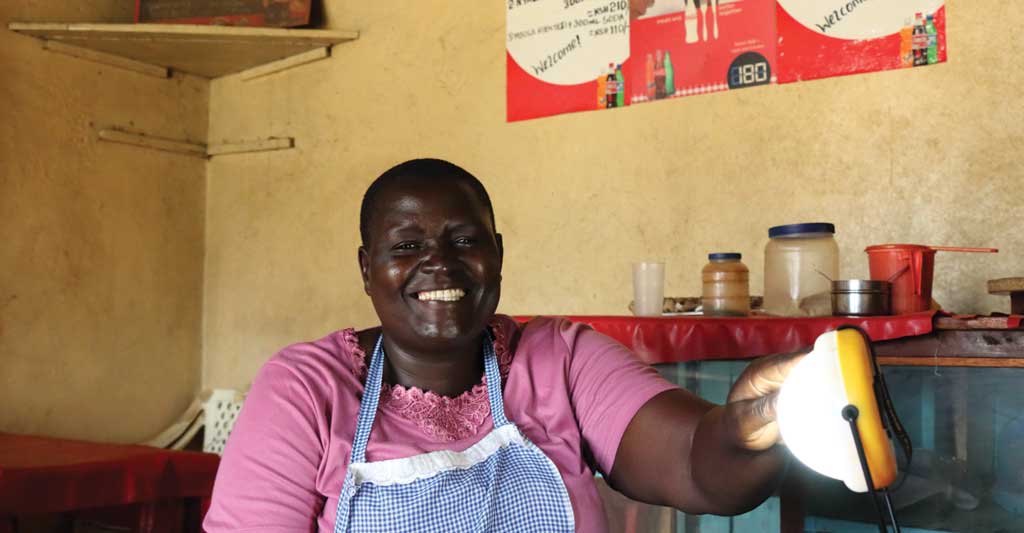 Ashden, a London-based charity that supports and promotes sustainable energy enterprises, announced Angaza as the recipient of their prestigious 2018 Ashden Award for International Financial and Business Model Innovation. Ashden annually conducts a rigorous search in the UK and abroad for pioneers in the field of sustainable energy initiatives, eventually narrowing the selection to 10 recipients of the internationally recognized mark of distinction in the field of green energy.
Ashden conducted a rigorous review of Angaza's business model, impact to date and potential to scale, including a visit to our team in Nairobi, Kenya. They also joined field visits to Angaza's distribution partners in Kenya to observe the sales and financing of solar energy products to people living off grid. Read the case study here.
"Angaza is honored to be recognized as an Ashden Award winner, and thrilled to join this community of changemakers at the forefront of innovation in sustainable energy," said Angaza CEO, Lesley Marincola. "With Ashden's support, Angaza will accelerate progress towards our mission to make life-changing products accessible to billions of people living without reliable income. To date, Angaza has enabled over 7.5 million people in 50 countries to switch from kerosene to clean, renewable energy, saving consumers over $100 million. and putting people on a path to financial inclusion. It's very gratifying to have our work recognized by Ashden for innovation in financial and business models."
Angaza's Director of East Africa Operations, Jane Kimani, accepted the award at the Royal Geographic Society in London, UK. She joined 10 other energy trailblazers whose work ranges from sustainable cities, to clean energy access for household, business and health initiatives. Watch her accept the award on behalf of Angaza:
About The Ashden Awards
The Ashden Awards showcases sustainable energy trailblazers, supporting their growth and advocating for the sector as a whole, while achieving progress towards Ashden's ambition: a world where everyone has access to affordable, clean energy.
The Ashden Awards uncover and reward the most exciting sustainable energy pioneers in the UK and developing world, who are leading the way to a thriving low-carbon future. Ashden Award winners receive up to £20,000 in prize money, in addition to a global platform to promote their work and access to an elite community of sustainable energy leaders. Since its creation in 2001, 205 Ashden Award winners have improved the lives of some 86 million people worldwide. They are now saving over 10 million tonnes of carbon emissions every year.