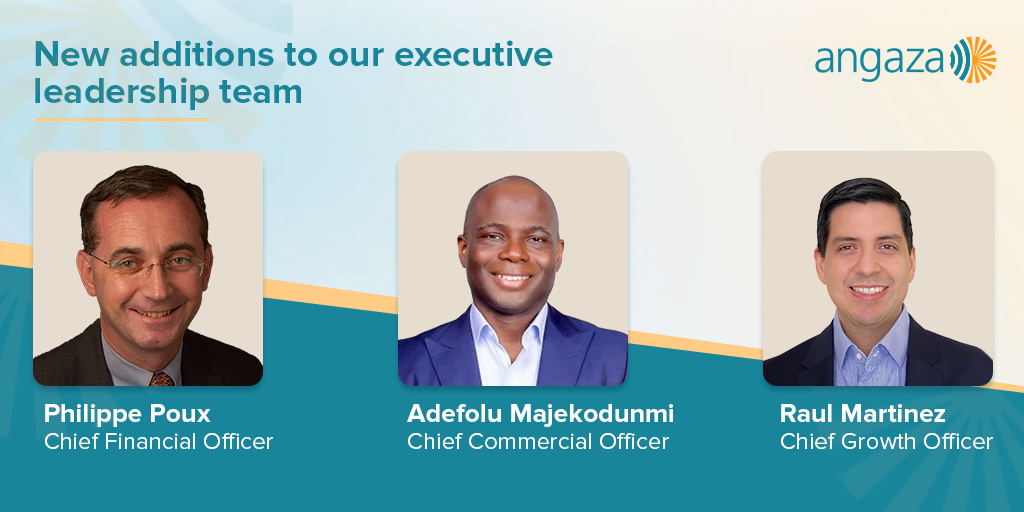 San Francisco, USA & Nairobi, Kenya ( 17/11/2021) Angaza, a pioneer of the world's most widely used pay-as-you-go (PAYG) enabled software as a service (SaaS) solutions for distribution businesses, today announced it has strengthened its executive leadership with the addition of Philippe Poux as Chief Financial Officer, Adefolu Majekodunmi as Chief Commercial Officer, and Raul Martinez as Chief Growth Officer, to propel global growth and expansion.
Commenting on the latest appointments, Angaza CEO Lesley Marincola said, "We are excited about our growth and impact to date, and I'm confident that our expanded executive leadership team will further accelerate our strategic ambitions in the future. With our additional leadership, we aim to grow Angaza's partnerships with a wider range of life-changing product providers, expand Angaza's world-class sales and customer management software across emerging markets, and fuel our distribution partners' growth with innovative financing. This milestone takes us closer towards growing our impact on the lives of individuals everywhere through affordable access to life-changing products."
With backgrounds in telecom, global SaaS solutions, and financial innovation, combined with their experience working in emerging markets, the executives will further drive Angaza's strategy of simplifying access to in-demand goods for consumers in developing countries.
Philippe Poux is an experienced Chief Financial Officer who has worked at various technology start ups and in the renewable technology sector for over 15 years. He brings to Angaza significant experience in driving fundraising activities across multiple series, leading all support functions relating to M & A activities, and building world class finance teams.
"With a strong track record of financial and strategic business leadership, Philippe is well positioned to steer Angaza's international business operations as we expand into new countries and market verticals," explained Lesley. Previously, Philippe was the CFO at Geli, San Franscisco CA. Prior to that, he spent 12 years working at various technology start ups as the Chief Financial Officer.
"Adefolu Majekodunmi is a valuable addition to propel Angaza's growth through our commercial teams, support the scaling of our customer base, and drive new partnerships into the Angaza ecosystem," said Lesley. He brings more than two decades of software industry sales and marketing expertise into the Chief Commercial Officer role. His extensive international business development experience  including spending years living and working in Europe (W&E), US, Asia Pacific, Africa, China, India, Australia, M. East, plus ability to drive sales organizations, and understanding of local customer requirements will be invaluable in Angaza's efforts to deepen its market reach with a wider product offering while expanding geographically.
As Chief Growth Officer, Raul Martinez will lead Angaza's corporate development strategy, strategic partnerships, and inorganic growth initiatives. Raul is also responsible for identifying new and expanded growth initiatives in both current and new market verticals while optimizing existing business models and devising new revenue streams.
"Raul Martinez brings proven fintech leadership and an impressive track record in business growth.  In the last decade and a half he has driven revenue growth and acceleration in over 25 markets delivering a revenue turnaround and a major exit across various markets," said Lesley. "We are positioning Angaza for accelerated growth by providing new and innovative ways for more businesses to finance life-changing products in 2021 and beyond. We expect Raul to play a major role in our continued success," she added.
As Angaza continues its growth and expansion, and welcomes industry leaders like Philippe, Adefolu and Raul, its top priority remains serving our customers and providing them with world-class technology that supports the distribution of life-changing products to customers in emerging markets, while also fueling our distribution partners' growth with innovative financing. 
"Our purpose and mission are clear, and our strategy is well defined. The addition of Philippe, Adefolu, and Raul will be the force multiplier to drive the execution of our key value streams. I am confident that the three new executives will be successful in helping to drive our vision," she ends.
About Angaza
Angaza creates the technology that enables distribution businesses to offer life-changing products to anyone, anywhere. With a technology solution designed for emerging markets, Angaza is revolutionizing last-mile distribution by removing upfront price barriers, enabling 1 billion consumers in emerging markets to pay for life-changing products like solar home systems, water pumps, and clean cookstoves, in affordable amounts. To date, Angaza has impacted over 17 million people globally, helping consumers save over US $300 million through the purchase of affordable transformative products.