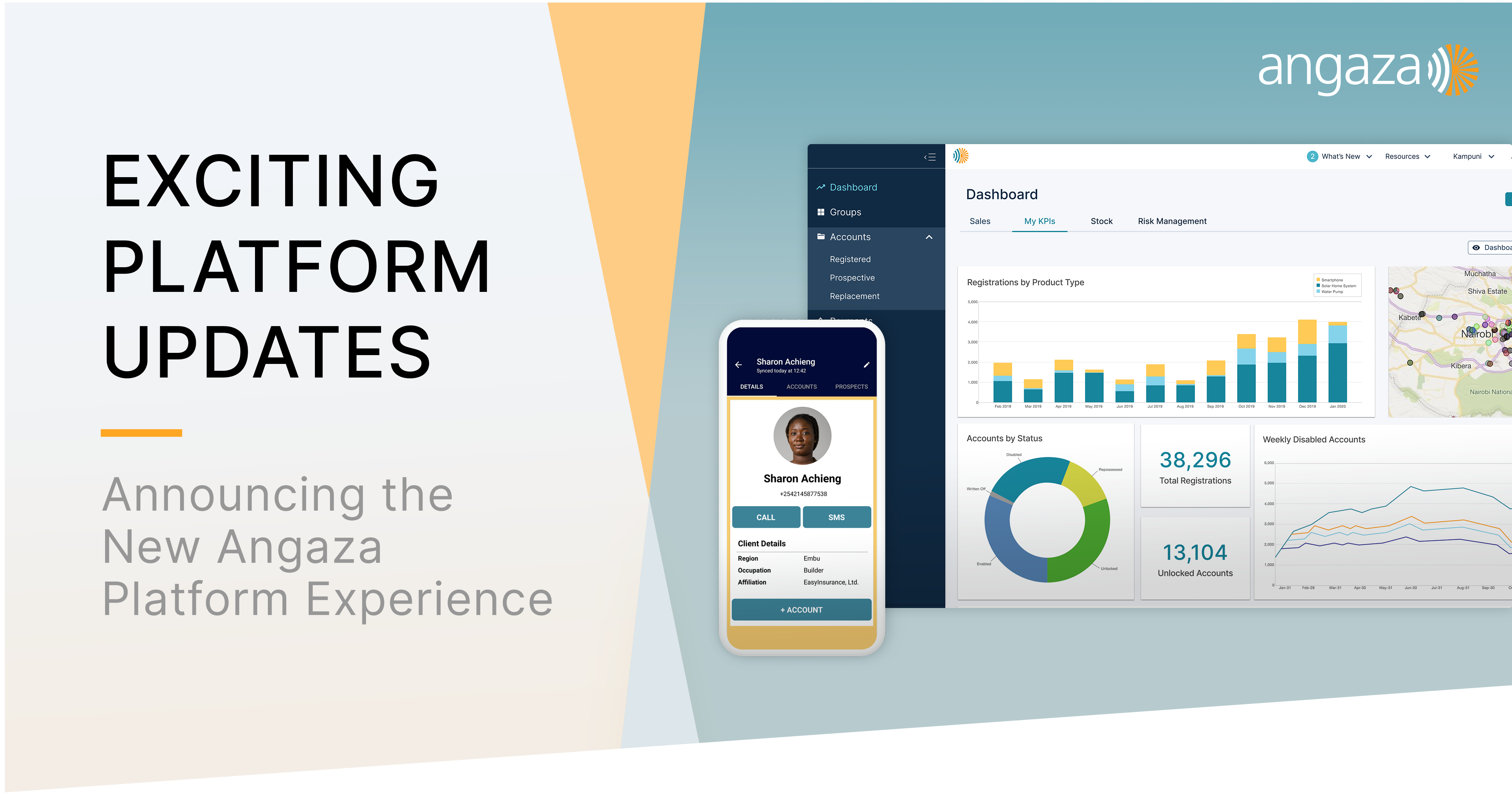 We're really excited to share some news with you about a powerful set of updates to the Angaza platform experience.
This month, we released a fully redesigned look and feel of the Angaza platform to our customers and users. Our partners and their teams — from sales agents, to managers, to executives — will now get to experience a more modern and sleek Angaza on their paths to growth.
We're proud that this effort is grounded in one of our core values: "Innovate with Empathy." As with all of our platform enhancements, this redesign incorporated the input and counsel from many of our partners to ensure that it maximizes efficiency and ease-of-use of the platform.
Along with our recently refreshed website, this enhanced platform experience is just one of the ways we're making significant improvements to how our customers and 75,000+ users engage with Angaza.
From redesigned dashboards to enhanced client details pages, you can check out a few example visuals of the new Angaza Hub experience below. The Angaza Activator app has also received an overhaul and is now more streamlined than ever. The latest version of the app is available to Angaza customers on Android mobile devices.

"Visually, the platform looks awesome. The entire user environment has been updated and many features have received a performance upgrade. Great improvements."


Joseph A, Program Manager
Greenlight Planet
What's Changed
Updated Design
Experience a fresh new look and feel as you explore the platform from the redesigned navigation bar. Discover sleek new icons, streamlined visual layouts, and crisp font choices.
Powerful New Dashboards
Harness the full power of your data in more prominently displayed and customizable dashboards, making it easier than ever to evaluate key insights that inform important decisions.
Faster, More Intuitive Tables
Quickly access the business information you need in updated tables that retrieve data faster, allow for more customized filtering options, and are designed for easy readability with horizontal scroll and expandable row functionality.
Interactive Details Pages
Easily record and access information related to key tasks in newly redesigned details pages that feature informative summary cards, interactive lists, convenient in-line editing, and seamless tab navigation between sections.
How to Access the New Angaza Platform Experience
The new Angaza Hub will be fully rolled out to all Angaza customers throughout the next few days. Once the new Hub becomes available to your organization, users can get started using it right away. You will also have the option to continue using the legacy Hub for a limited time period. To learn more about all of the changes and updates to the Angaza user experience, you can access the New Angaza User Interface Assistant Article after logging into your Angaza account.
The latest version of the Angaza Activator app is available to Angaza customers for use on Android mobile devices. It's now easier than ever to collect payments and access key information like stock availability, prospect status, and account details. Visit the Activator Overview Assistant Article for more information on how to install the Activator app.
Not an Angaza customer? See the platform in action by requesting a demo.
For helpful learning materials and the latest news about Angaza, be sure to visit our Resources page for more information.
Cheers,
Your friends at Angaza