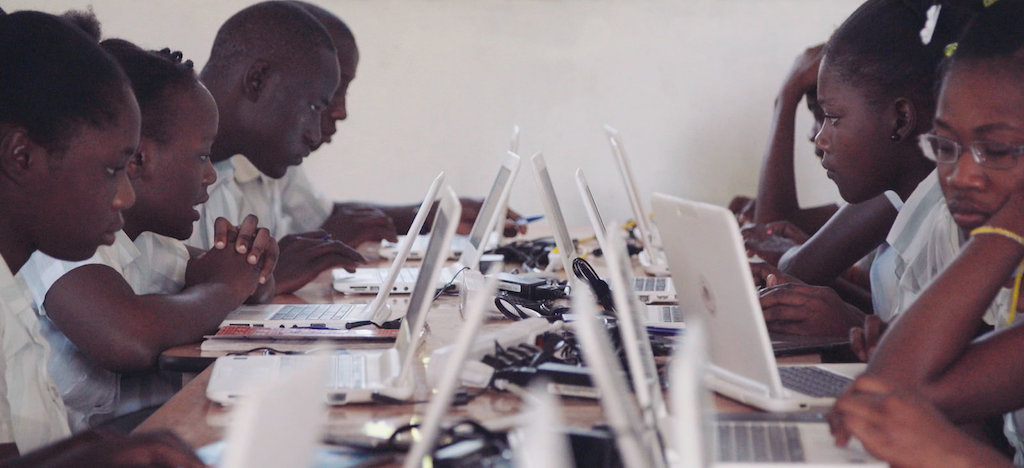 Image Source: Endless Computers
Angaza and Endless Solutions are partnering to bring last-mile consumers the first ever personal computer and operating system available on a pay-as-you-go basis. The partnership comprises a combined user friendly laptop with the Endless Operating System (OS), integrated with Angaza's Pay-As-You-Go technology. The complete technology solution enables consumers in emerging markets to pay in affordable increments for their own computer with internet access. Consumers with computing experience ranging from novice to experienced will benefit from an affordable system that provides access to information as well as potential income-generating opportunities.
"We are excited to partner with Endless Solutions because of our aligned missions to bring the very best products to consumers in emerging markets," says Angaza CEO Lesley Marincola. "This game-changing collaboration combines Angaza's Pay-As-You-Go technology with Endless's information-rich computing platform to bring educational and economic opportunities to millions. The impact of an affordable personal computer designed for global markets is inspiring."   
The Endless Solution technology integration includes an Endless Solutions EECS202 laptop with built-in Endless OS, a user-friendly interface preloaded with apps that are accessible even in regions with no internet connectivity. Apps include Wikipedia articles, video lessons on a range of subjects, music streaming and games. The Endless OS is also available in a variety of language options.

"Enabling affordable access to technology is paramount to success in emerging markets, and we are delighted to partner with industry leader Angaza, on our mission to do so," said Baris Karadogan, CEO of Endless Solutions. "Pay-as-you-go is a critical enabler. Through our partnership, millions of people worldwide will be able to afford their very first computer."
The Endless computing system is now available for sale by product distributors using Angaza's software platform, joining a portfolio of over 30 life-changing products.
Discover how the Endless OS will connect your clients with information, entertainment and more. Contact Angaza to begin offering the Angaza Pay-As-You-Go Asus laptop with Endless OS.
Contact Endless to learn more about Pay-as-you-go computers:
sales@endlessm.com
Endless Solutions
575 Market Street
Suite 825
San Francisco CA, 94105
Video Source: Endless Computers
Endless OS Product Details
Work: Endless is compatible with Microsoft Office® for documents, presentations and spreadsheets.
Learn: 50,000 Wikipedia articles, video lessons, and apps across a range of topics.
Play: Your personal entertainment center with hours of music, videos, and games.
Endless EECS202 Product Details
Display: 11.6" – 1366 x 768 HD Display
CPU: Intel Cherry Trail Z8350
Graphics: Intel HD Graphics
Hard drive: 64GB
Memory: 2GB DDR3L
Battery: ~5 Hours – 5000mAh 2S1P
Power Supply: 12V/ 2A 100-240 VAC Input Frequency: 50-60 HZ
Wifi: 802.11a/b/g/n Enabled
Bluetooth 4.0
Camera: 720p HD
2 Internal Speakers
1 x 12V DC IN
1 x USB 3.0
1 x USB 2.0
1 x HDMI
1 x 3.5mm Audio Jack
1 x MicroSD Slot