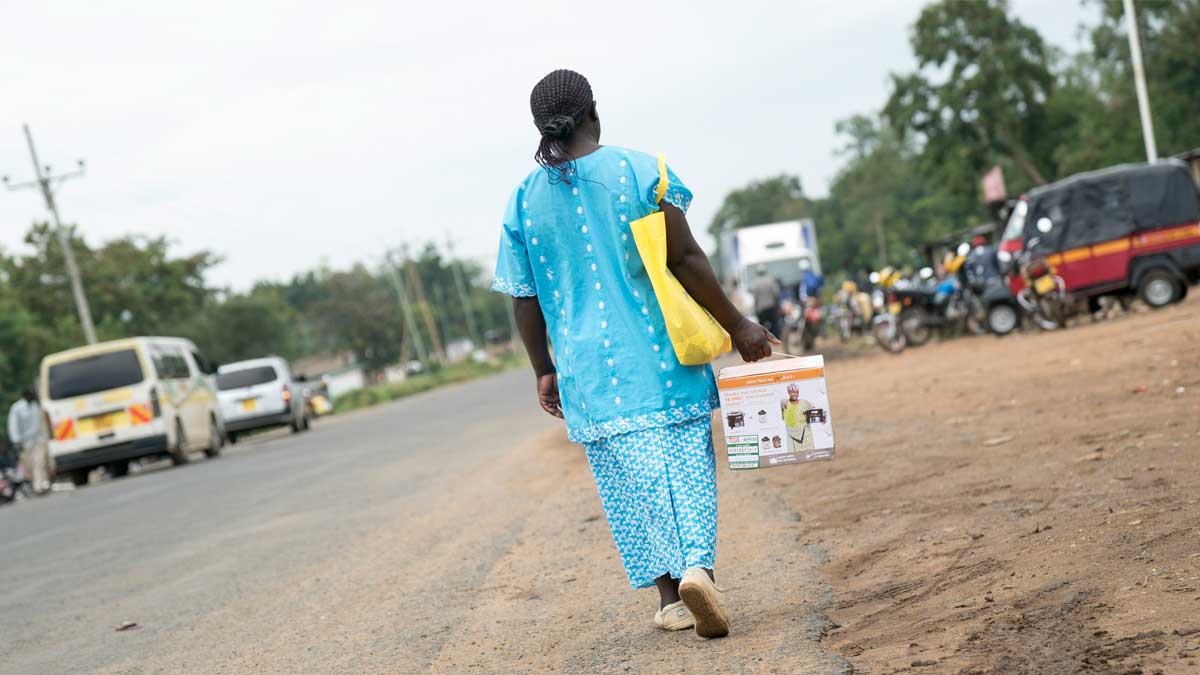 At this moment in history, the global community faces unprecedented challenges in conducting business. Last-mile distributors in particular are facing disruptions as their regions and markets are affected by COVID-19. This is why, now more than ever, Angaza is committed to helping distributors adapt and continue to make life-changing products accessible to consumers. Read on below to see how distributors can use the Angaza platform to support their remote sales and operations in these uncertain times and beyond.
Prospect Potential Clients Before the Sale
As people stay home to curb the spread of COVID-19, Angaza customers have noted two consumer trends: an increase in demand for information systems like radios and TVs; and, a reduction in or loss of income. To sell products to consumers looking to purchase now or in the future when they are financially ready, distributors can get the ball rolling with Angaza's prospecting tool. If the sale is for the future, recording prospective clients on the Angaza platform enables companies to build up their sales pipeline and better plan for future sales.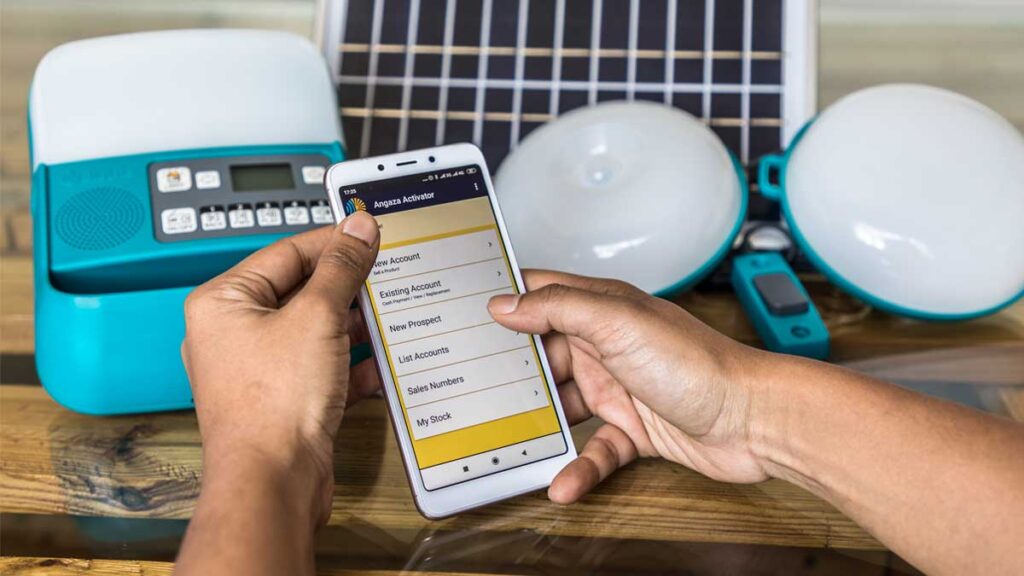 Initiate future sales with Angaza's prospecting tool.
With the prospecting tool, distributors can assess their prospect's eligibility to purchase a product by safely collecting their information over the phone instead of in-person, making use of both field and call center agents to do so. Once the prospect is approved for the purchase, companies can follow through with the sale when the product can be safely provided to the client. Distributors can use the client contact information they collected to arrange a reduced contact delivery at a time and location that works for them. 
Because Angaza's platform supports multiple payment plans, distributors can help make products more financially affordable to their clients by offering pay-as-you-go (PAYG) financing. They can secure a downpayment instead of the full product price at the point of sale, and collect the rest as installment payments. By sending automated SMS reminders when the installment payments are due and selling Angaza enabled PAYG products that deactivate if the client doesn't make a payment, businesses can offer PAYG financing with more confidence. And, to remotely collect payments, they can turn to mobile money. 
Track and Manage Inventory
The pandemic's impact on product supply chains has affected many distributors' ability to secure additional stock for their inventory. With Angaza, they can track and manage their existing inventory in a systematic manner. By viewing which products have sold recently and which ones are coveted by prospective clients, businesses can not only better understand how to allocate their existing stock, but also gain insight into market demand. 
Say, for instance, an agent experiences an increased demand for TVs in their area but is low on stock. Using Angaza's online platform, the Hub, their manager can quickly check where additional TV units are located and the length of time the stock has been held there. They can then transfer the desired quantity of TVs to the agent, choosing units from locations with limited sales or stock movement. To coordinate the physical transfer of inventory, the manager can assign tasks to the involved team members via the Hub.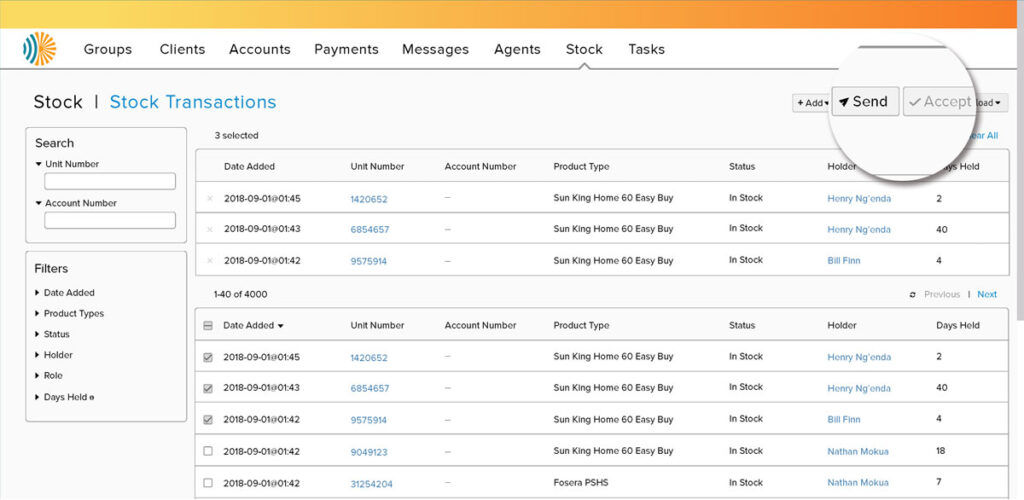 Easily view and transfer stocks between agents.
Leverage Mobile Money
Mobile money can play a critical role in supporting economic activity while limiting the risk of spreading COVID-19. To encourage mobile money transactions in markets such as West Africa where usage isn't as high as in East Africa, private and public entities are taking proactive measures. Governments are urging consumers to turn to digital payments to reduce person-to-person contact, and mobile money providers have decreased or waived transaction fees and lowered the cost and difficulty of signing up for mobile money accounts.
Distributors can tap into this supportive environment for digital payments to manage their sales and payment collections. When a client makes a mobile money payment, the distributor's Angaza account is credited with that payment amount, bypassing the need for a sales agent to physically collect and record cash payments. If the client is making installment payments on a pay-as-you-go enabled device, Angaza sends an unlock command to the client's phone, and this process repeats itself every time they make a payment.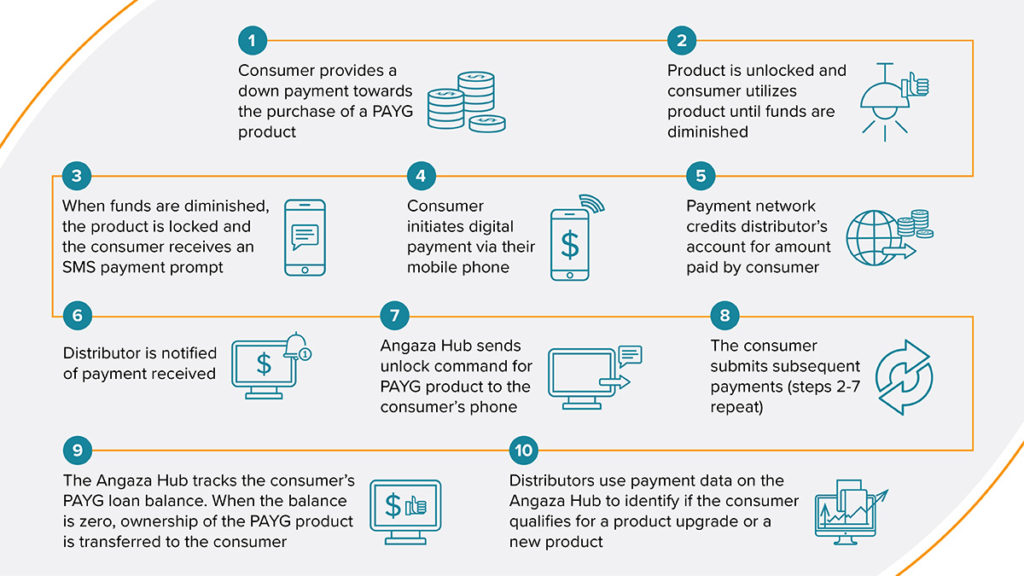 Use mobile money for pay-as-you-go sales as well as direct sales.
In order to enforce mobile money as the exclusive form of payment collection, distributors can turn off the cash collection functionality on the Angaza platform. In support of this more efficient and secure form of payment collection, Angaza has integrated with more than 50 mobile money operators to date. 
Enhance After-Sales Care
When distributors' physical interaction with clients is limited, selling IoT by Angaza devices can offer peace of mind around balancing safety with customer care. By combining GSM-enabled smart devices with powerful data and analytics on the Angaza Hub, IoT by Angaza enables distributors to remotely troubleshoot issues and update the products' firmware. Remote device monitoring allows the Angaza Hub to identify and display an alert when a device is performing in an atypical way that likely indicates a potential error. Distributors can decide on the best course of action based on the type of error, such as calling their clients to inform them their solar panel is not receiving enough sunlight. This helps distributors avoid visiting their clients for issues the clients could attend to on their own.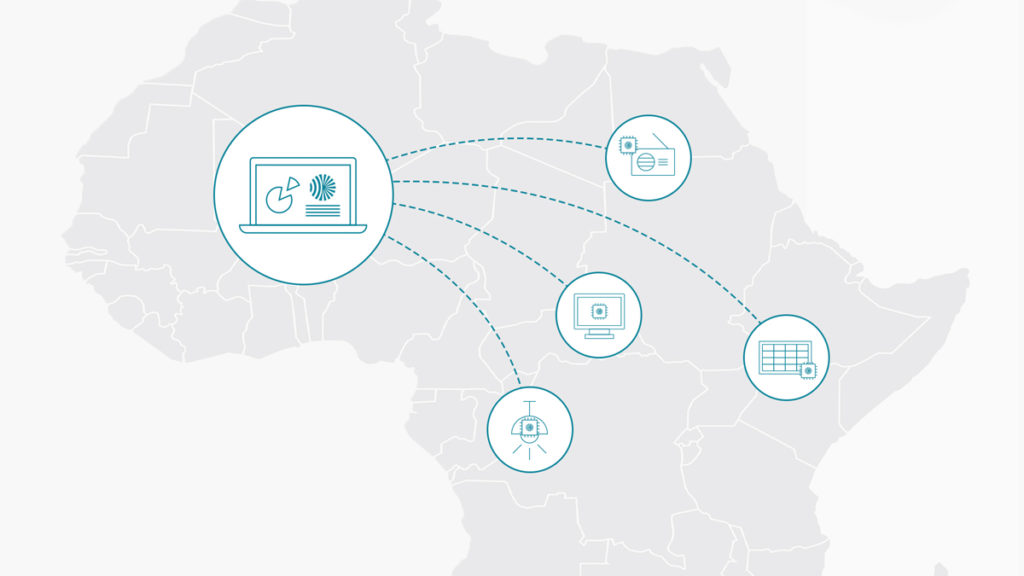 Access powerful insights on product performance to enhance remote after-sales care with IoT by Angaza.
Alerts like these enable distributors to attend to problems even before clients realize there is one, helping to improve the clients' experience with both the product and the distributor. And to continually improve the product, when a product update is released, distributors do not need to manually update the product's firmware at their client's home; the update can be pushed remotely. 
For additional information on how the remote sales and operations features covered above can help your organization better navigate these uncertain times, please contact us here. If you are an Angaza customer, your Customer Success Managers are on standby to support.